Zaporozhye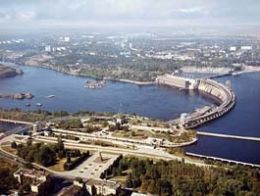 Zaporozhye is a city in south-eastern Ukraine and the capital of Zaporizhia Oblast. It lies some 70 km from the Dnipropetrovsk city and is located on the banks of the Dnieper river. It was originally named Alexandrovsk, after the commander of the first Russian Army, Prince Alexander Golitsyn, but was renamed in 1921 to Zaporizhzhia. Zaporozhye is currently the sixth largest city in the Ukraine and has a population of 900,000 (2004).
Zaporizhzhia is an important industrial center of Ukraine, particularly a home for:
- famous hydroelectric power plant known as "DnieproGES";
- famous ZAZ, the country's main car manufacturing company;
- famous Motor-Sich design-bureau and production company, the world-famous airplane engine manufacturer.
Zaporizhzhia was very much an 'engineering c ity' during Soviet times, with all the consequences in terms of pollution that might be expected. The move to market economy since independence of Ukraine has seen the demise of some of these concerns which has certainly improved the air quality. Although not a particularly attractive city, Dnieper River cruise ships make it one of their scheduled stops in order to visit Khortytsia Island.
The town of Zaporozhye is more 200 years old and is situated about 600 km South-East of Kiev - Ukraine's capital - and half-way between the fields of iron ore in Krivoi Rog to the Westand the coal in the Donetsk basin to the East. The town is built on the wide plains along both banks of the mighty and ancient Dniepr River, which gives Zaporozhye a unique atmosphere (photo).
Zaporozhye's residential areas are very spacious with plenty of light and greenery, and the streets crossing Lenin Prospekt - the longest road - slant down towardsthe Dnieper River.
Zaporozhye stretches out for over 30 kilometers along the river, and in its width the new residential districts extend for 25 kilometers. A most remarkable sight and the pride of Zaporozhye's citizens is Khortitsa Island, which is the custodian of anantiquity reserve museum and a nature reserve popular with weekend visitors.
Railways, highways, airlines and water-ways connect Zaporozhye with Moscow, Kiev, Kharkov, Poltava, Simferopol and many other cities and towns in our country. Just beyond the borders of the town to the South, you can find the vaste Kakhovsky Reservoir, which is often called a sea, and the Sea of Azov - a very popular health-resort area - lies about 150-200 kilometers further towards the South. Kakhovsky Reservoir finally flows into the Black Sea close to Odessa, one of Ukraine's major ports. You can travel all of the wayfrom Kiev to Odessa by boat on the Ukrainian Waterways.
In Zaporozhye there are now over 100 secondary schools, 14 professional schools, a university, three institutes, 13 technical secondary schools, two medical schools, two pedagogical institutes and a musical colleges, about 30 scientific research and design institutions. Every fourth inhabitant is a scholar. The community now has access to over 400 libraries, more than 50 cinemas, a Musical and Drama Theater, the Theater of Young Spectators and a Puppet Theater, a concert hall, a circus, 46 Palaces of Culture andvarious evening clubs.
The scientific community of the city encompasses more than 600 doctors and professors. Over 220 members of creative unions (writers, journalists and artists) live and work heretoo.
Zaporozhye has become a city of more than 1300 avenues, streets, side-streets and squares located in six administrative districts (Leninsky, Zavodskoi, Orjonikidzevsky,Zhovtnevy, Kommunarsky and Shevchenkovsky) with the population of over one million. A child is born here every 48 minutes. There are now 270 medical establishments in Zaporozhye with more than two thousand doctors working there.
The tram, trolley-bus and motorbus routes are over 1000 km long. There are some 30 parks and public gardens, the total area of greenery of which covers 12,500 hectares- an average of 17 square meter's of greenery per inhabitant.
Zaporozhye has many true friends abroad, such as the twin-towns of Vrotslav and Legnitsa (Poland), Obrovats (Yugoslavia), Lakhti (Finland),
Birmingham
(England), Belfor (France) and Linz (Austria), Oberhausen (Germany). Delegations from these towns often come to visit the city and enjoy the hospitality of our residents.
sources :
Zaporozhye Image : zaporozhye.ws
External Links :
Zaporozhye region
Zaporozhye State University, Ukraine
Google Images of Zaporozhye
Date Added: 30 April '06
---
Add a link to this page on any related website, blog or forum using this code :

---