Holidaying in God's own country, Kerala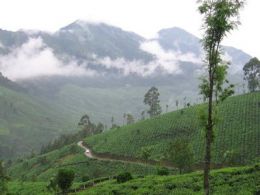 Kerala is very well known for its natural beauty. Broadening across the mountains and surrounded by evergreen forests it is also known for its sun kissed beaches, serene backwaters, historical temples and churches, tourism, Food and culture, warm and cozy accommodation, villages, etc.
Kerala is a paradise for the travelers.
The amazing beauty of the evergreen forests, waterfalls, hill stations, tea plantations, fields of spices and condiments which are exported globally, etc. attracts the tourists and thus is a great holiday spot, not only for vacationing but also for planning out a honeymoon.
Munnar, Rajamala, Wayanad, Ponmudi, Palakkad, Vagamon, Idduki, etc are some of the hill stations in Kerala.
Munnar, most well known hill station is situated at the confluence is 3 mountain ranges, Mudrapuzha, Nallathanni and Kundala. Anariyangal, 22kms from Munnar is a lush green carpet of tea plantations, a must visit.
The main attraction of Kerala is its breathtakingly beautiful backwaters. The most beautiful way to let the beauty sink in you is on a luxurious houseboat.
Men move around in small country boats and their boats row across coir villages, paddy fields, exotic resorts, and picturesque forests and waterfalls, backwaters of Kerala is the most romantic places and a perfect destination to plan a honeymoon.
Adding to the beauty of Kerala is it sun kissed pristine beaches. It has some of the most beautiful beaches known the world over like the Kovalam Beach, Varkala Beach, Poovar Beach, Cherai Beach, Fort Kochi, Alappuzha Beach, etc surrounded by fringes of coconut palm and crystal clear sands, especially Kovalam Beach.
One can take a long walk on the beaches or sip clear fresh coconut water or indulge in sun bathing or swimming or may be just gaze at the ocean and its abundance.
Capturing the sun setting into the waters or rising amidst the evergreen forests is the best way to have the most memorable time, while holidaying in Kerala.
Apart from Kerala being blessed with natural beauty it is also known for its herbal and Ayurveda practices. A lot of certified Herbal spas and holistic healing centers can be visited for relaxation or just plain massage. Also Keralian cuisine is mouthwatering, especially for its fresh spices and sea foods.
The Keralian dance forms Kathakalli and Theyyam, martial art form Kallari, and traditional Keralian jewellery is worth a watch.
By FW Editor
Date Added: 23 January '10
---
Add a link to this page on any related website, blog or forum using this code :

---