Bahrain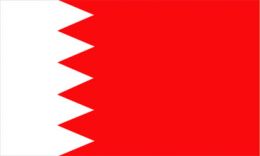 Surface: 662 km²
Population: 516.000 inhabitants
Density of population: 830 inhabitants/km²
Capital: Manama (139.000 inhabitants)
Official language: Arabian
Official currency: Bahrain Dinar
Imported products: brut petroleum, food, cars
Brut Intern Product: 6.060 $/inhabitant
State type: Kingdom
Geographical Characteristics
The country is situated south-west of Asia, Persian Golf. It is an archipelago formed of the island with the same name which has 563 km² and other 32 smaller islands. The relief is represented by desert with a maximum altitude of 135 m in Jabal Dukhan.
Climate
The climate is arid with an amount of rainfall under 100 mm per year and low temperatures in the winter and very dot in the summer. There are these climate conditions because of the geographical characteristics. The medium temperatures in Manama are 17° C in January and 34° C in July.
Population and Cities
The country has 516.000 inhabitants. The birth rate is 47‰ and the death rate is 19‰. 81% of the population lives in cities. The most important cities are: Al Muharraq (76.000 inhabitants), Jidd Hafs (50.000 inhabitants), Rifa'a (25.000 inhabitants) and Isa Town (21.000 inhabitants). 75% of the population is Arabians, 16% Indians, 5% Pakistanis and the rest of them Europeans. Over 80% of the people is concentrated in the north-east side of the country in capital and in the nearby and on Almuharraq Island. The main religions are: Islamism (85%), Christians (7%) and Hindu (5%).
State
Bahrain is a constitutional monarchy and has a Constitution from December 6, 1973. The legislative and executive activities are exerted by the Emir and his Cabinet. The National Assembly was dissolved on August 26, 1975. There are no political parties in this country.
Economy
The country has a developed and various economy, but was badly affected by the Golf War in 1991. It is still based on extraction and processing of petroleum which represent 90% of the export incomes. 33% of the population works in this industry. The annual produce (2 million tones per year) and the local deposits of petroleum are not very big and that's why the refinery in Awali (the second in Middle East) imports the brut petroleum from Saudi Arabia. The deposits and the produce of natural gases are more important besides the petroleum processing. Aluminum industry is also very developed because is the main airways center in Persian Golf, Bahrain became an important international financial center and has a tourism industry much more developed in the late years.
Bahrain Lists
Date Added: 23 August '09
---
Add a link to this page on any related website, blog or forum using this code :

---