The king of holiday spots- Orlando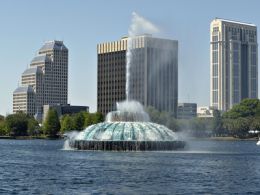 Orlando is situated in Florida.
It is undoubtedly one of the biggest cities in the state of Florida. It is one of the best and the most exciting places to visit when on a holiday, as it has not only entertainment for the kids but also for adults.
The biggest attraction in Orlando is the classic Magic kingdom in Walt Disney founded by Disneyland. This has a lot of theme parks, theatres and live performances.
With Mickey mouse, Peter Pan and the characters like these the kids are always on an enjoyable fairy land ride. Apart from this there are tea cup rides, roller coasters and Epcot, the famous fair has many interactive sessions for adults too.
Apart from this the other place is the Disney Hollywood Studios where one can get a live experience of a movie being made toget her with live performances by Indiana Jones and musicals of Cinderella.
The Animal kingdom with African wild safari with animals in their natural habitat is splendid. And the "Dino land" takes you to the lost world of dinosaurs.
Typhoon Lagoon and Blizzard beach are the water parks in Orlando with water sports. It also is built in such a way that it surrounds itself by mountains and landscapes which gives people visiting there an opportunity to enjoy the lakes and the mountains and be amidst nature. The water parks also have floats, rafting, surfing which is open al day along.
Orlando is also famous for Mt. Gush more so one can ski on the snow capped mountain. Paragliding and parasailing are the sports that can be enjoyed by adults at any time of the day. Other sports like golf, biking, pool are available at any resort.
Orlando has fun places nearby like Universal studios and Busch gardens of Tampa bay etc.
Finally one can end the day by going to the La Nauba show having performances by The Blue Man Groups.
The magicians and the gymnasts take the experience to cloud nine. Also, the light and sound show at Disney land is a breathtakingly beautiful experience at night in Orlando.
By FW Editor
Date Added: 22 January '10
---
Add a link to this page on any related website, blog or forum using this code :

---