Maui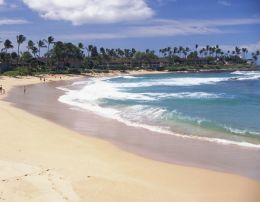 Art, beauty and diversity
The island of Maui, also called "Valley Isle", is part of the state of Hawaii, it is the second largest of the Hawaiian islands, measuring 1883,5m2. Maui has population of 141,320 (2006 US Census estimate), and like the rest of the Hawaiian islands has a rich multi-cultural heritage, ranging from the Polynesians, to the Portuguese to the Pilipino.
Maui has some of the world's most beautiful and diverse beaches. There is Black sand beach, also known as Oneuli (meaning 'dark sand') Beach - the sand is actually the cinder from volcanic eruptions. Ho okipa Beach is a world famous beach know for its great windsurfing, host to two world class windsurfing competitions. Big Beach (Makena Beach) is over 1km long and is referred to as THE beach on Maui. Hamoa Beach voted as one of Maui's favourite beaches, it is surrounded by sea cliffs and lush vegetation.
Maui has over 15 golf courses on the island, and along with the beautiful scenery on the course there is a large selection of accompanying restaurants. Makena North Course is arguably one of the most beautiful and popular, on the 14th tee one can see 4 nearby islands and whales breaching. Wailea Gold Course is a world class course with over 125 bunkers protecting the course from even the most seasoned player. Kapalua plantation course is one of the toughest and most beautiful courses on Maui, the change in elevation and cross winds add to the difficulty of this course. Pukalani country club, only one hour from the crater, it is an ideal course for the budget golfer.
Lahaina has to be amongst those must see places. It used to be the capital of the Hawaiian and used to be the port for the Pacific whaling fleet. It is rich with cultural attractions, you can visit one of 40 art galleries. The village is on the National Register of Historic places and one can follow Lahaina's historic trail throughout the town, where you can treasure hunt for collections of maps, prints and engravings from the 17th , 18th and 19th centuries.
FamousWhy? Beautiful, Cultural and Diverse
Image Source : traveldk.com
Date Added: 21 October '08
---
Add a link to this page on any related website, blog or forum using this code :

---