Land of Sand dunes and wildernesses- Exploring Rajasthan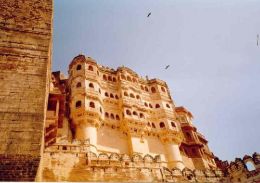 Rajasthan is known for its culture, the history, the deserts, the food, the aristocracies, the architectures and for its arid climate. Due to the type of climate it has, that is arid to semi arid areas, Rajasthan is a home to a wide variety of animals.
From endangered species to rare species, to wild animals to bird sanctuaries it has it all. India's most number of wildlife sanctuaries is in Rajasthan.
All year round wild life photographers/enthusiasts, nature lovers visit Rajasthan to experience this wildlife heritage.
Spread across a wide area of 800 sq.km, Sariska Tiger Reserve is one of the most renowned sanctuaries in India situated in the Alwar district.
Known for Tigers is also Ranthambhore National Park in the Sawai Madhopur district, where tourists can easily spot t igers. Apart from tigers, the parks also have animals like Hyena, Chital, Sloth bears, Leopard, Sambhar, Wild boar and some birds like Fishing Eagle, White beaked Vulture, Great horned Owl, Painted spur fowl etc in their natural habitat.
A good season to visit these places is from November to April.
Talking of birds, around 230 species of birds, endangered and rare, can be found in the Keoladeo Ghana National Park. It is situated in the Bharatpur district which also gives it the name as Bharatpur Bird Sanctuary.
Keoladeo is the name derived from an ancient Hindu temple of Lord Shiva and Ghana means dense. It is a home to Migratory birds that include several species of Cranes, Pelicans, Geese, Ducks, Eagles, Hawks, Shanks, Stints, Wagtails, Warblers, Wheatears, Flycatchers, Buntings, Larks and Pipits, etc. in their natural habitat.
This man made natural world is open all year but the best season to visit, for resident breeding birds is from August to November and for migrant birds is from October to February.
Apart from these other wild life sanctuaries which are famous are: The Mount Abu Wildlife sanctuary, The Desert National park, Darrah sanctuary, Jaisamand Sanctuary in Udaipur known for its Wild safari tours, The Kumbhalgarh Sanctuary broadening across the Aravalli ranges is known for its strolling pack of wolves and is a natural abode to animals like jungle cats, chatushinga (the four horned Antelope), Chinkara and Hare.
To take back with you more than just an experience, carry binoculars and cameras for capturing the flora-fauna, exotic birds and the wildernesses of Rajasthan.
By FW Editor
Date Added: 23 January '10
---
Add a link to this page on any related website, blog or forum using this code :

---