Brunei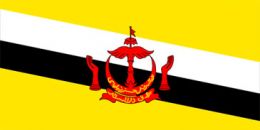 General Facts :
Surface: 5.765 km²
Population: 273.000 inhabitants
Density of population: 47 inhabitants/km²
Capital: Bandar Seri Begawan (60.000 inhabitants)
Official language: Malaysian
Official currency: Brunei Dollar
Imported products: food, drink
Exported products: hydrocarbons, petroleum, natural gases
Brut Intern Product: 19.400 $/inhabitant
State type: Kingdom
Geographical Characteristics and Climate :
The country is situated in the south-east of Asia and in the north of Kalimantan Island. The territory includes two sectors, a western one with hills and marshes and an eastern one named Temburong. The relief is in steps and in the south where there is the main mountainous chain the maximum altitude is 1.850 m. The climate is equatorial with many ra infalls situated between 2.500 and 7.500 mm per year. The climate conditions favor luxuriant forestry vegetation.
Population and Cities :
The capital of the country is Bandar Seri Begawan and has 60.000 inhabitants. The country has 273.000. The birth rate is 27.8‰ and the death rate is 3.3‰. 64% of the population lives in cities. The most important cities are: Kuala Belait (37.000 inhabitants), Muara which is a port and Seria (24.000 inhabitants). 69% of the people are Malaysians, 18% are Chinese and some are Indians and other nations. The population is concentrated in the coast band and in the capital region where there are approximately 250 inhabitants/km². the regions with a low density of population are in the west of the capital (20 inhabitants/km²) and in the east, in the Temburong Enclave (6 inhabitants/km²). The most important religions are: Islamism 63%, Buddhism 14% and Christians 10%.
State :
The country is a constitutional monarchy where the sultan is hereditary according to the Constitution in 1959. The legislative activity is exerted by the Sultan and by a Legislative Council and the executive by the Ministries Council leaded and chosen by the Sultan. The political parties were forbidden in 1988. The Unite National Party and the People's Party in Brunei activate in exile.
Economy :
The main resources are the hydrocarbons, the petroleum and natural gases. They contribute with 60% at the Brut Intern Product and with 99% at the export incomes. The exploitations are done from a long time ago and the resources are estimated to end between the years 2010 and 2020. 2% of the country's surface is cultivated. Agriculture is not well developed. The country imports many internal needs such as food, drinks and others. Half of the country's incomes go to the Sultan and he is considered one of the world's richest person.
Brunei Lists
Date Added: 30 April '09
---
Add a link to this page on any related website, blog or forum using this code :

---