Acapulco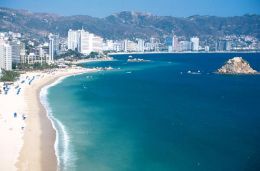 Officially Acapulco de Juarez is located on the Pacific west coast of Mexico. The current population is estimated at over 620,000 people living in the urban area. This is the largest city in the state, even bigger than the state capital of Chilpancingo.
Acapulco is predominantly a tourist attraction, and hosts many holidaymakers from the United States and inland Mexico every year. There are numerous attractions, including a range of watersports like water and jet skiing, para-sailing, deep sea fishing, snorkeling and numerous excursions to a host of beautiful venues.
One of Acapulco's most famous attractions are the brave cliff divers, that dive at La Quebrada. These divers perform daily for onlookers, diving from a height of 45m, they also dive at night, whilst holding flaming torc hes, truly spectacular.
Acapulco's Historic Musuem is the most relevant monument in Acapulco. The structure is the Fort of San Diego, and it is built in the shape of a five point star. It was the most important Spanish fortress on the Spanish coast, protecting the Spanish occupied Port of Acapulco. Although it was destroyed in an earthquake in 1776, it was quickly rebuilt by 1783. the museum houses a range of important cultural and historical artifacts.
Most beaches in Acapulco are in the bay area known as "La Costera", and this is what made Acapulco famous. Some of the most popular beaches that line Costera are Hornos, Papagayo, Tamarindos and Icacos. Open ocean beaches include Langosta and Caleta Beaches.
The water park on the main beach is a definite must, with dolphin shows and hourly swims with the dolphins. There are pools and slides and for the bravehearted a skycoaster - a mix of a swing and bungee.
Acapulco offers the partygoer a great choice of nightclubs, and includes the biggest club in Latin America, namely El Alberije - up to 5000 people, with an open bar until 5 am. One can also choose from the Palladium, Baby'O or a range of other venues lining the Costera.
Acapulco has it all….fun, sun, party and more.
FamousWhy? Inspiration of the song "Come Fly with Me"
Image Source : z.about.com
Date Added: 21 October '08
---
Add a link to this page on any related website, blog or forum using this code :

---