Italy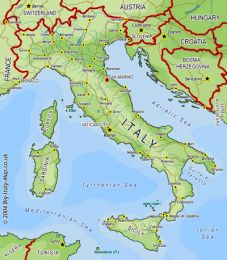 Italy is a unique destination to visit because it is known for a lot of things. It is a paradise for people wanting to experience some of the luxuries of life. Known for Art, it ranks first when it comes to Architecture and interiors.
Italy is known for Fashion. It is a land of some of the best Football clubs like A.C. Milan. So to sum it all up, visiting Italy can be quite an affair.
Let's pen down major ten places a must visit on a trip to Italy.
Venice:
Built around canals, Italy is the most romantic place to visit in Italy. One can take tour of old Venice by a boat and can feel the love blossoming. Also St. Mark's Square is an attraction in Venice.
Florence:
Art is in every wall and every corner of this city. It was the starting place of the Renaissance Art a nd home to Michelangelo's famous Art work, David.
Florence is situated in Tuscany, known as the wine country. For all who want to indulge into some wine tasting, Florence is the place to be.
San Gimignano:
To go back in the medieval era, San Gimignano is the right place. It is a small town near Florence on the hill tops. This is the best place to explore Italy in ancient times.
Rome:
The capital city of Italy and the most historical place in the entire country. Roman civilization had the most impact on Europe it is believed.
It is a home to Christian epitome, the Vatican City where the Pope resides. Sistine chapel, Coliseum, and Pantheon are a must visit.
Milan:
Milan is known for 3 F's namely Fashion, Football and Finance. It is the economical capital of Italy.
It is a sprawling Fashion Capital of the world and it is a home to one of the biggest Football clubs in the world, A.C. Milan. It boasts of beautiful churches, castles, The Last Supper mural etc.
Sicily:
The largest place in Italy, it houses the world's most notorious mafia. One of the most beautiful regions of Italy, Palermo a city in Sicily is amongst the most beautiful towns in Sicily.
Capri:
Located on the south of Italy it is a honeymoon destination.
Turin: Located in the north of Italy across the Italian Alps, home to Fiat, the finest car maker's and Juventus, best football clubs in Europe.
By FW Editor
Date Added: 25 January '10
---
Add a link to this page on any related website, blog or forum using this code :

---