The Vijay Utsav, Hampi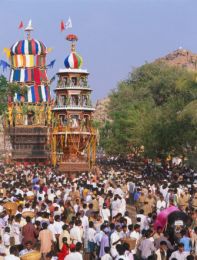 Hampi, once the capital of the Vijaynagar Empire, one of the biggest empires in the history of India is also an international tourist attraction for its rich royal heritage situated in the state of Karnataka.
The Hampi festival is celebrated in Hampi every year in the ending weeks of January, mainly from 27-29th January. It is one of the biggest events which are celebrated and people from all over the country visit Hampi during this festival to enjoy the cultural heritage and the grandeurs.
The Hampi festival or Hampi utsav is also famous as "The Vijay utsav".
The Hampi festival is organized by the government of Karnataka to display various forms of arts, music and various dance forms and to relive the aristocratic era of Hampi.
A huge number of people participate in the Ha mpi dance and music festival from all over the country. This is one of the major attractions the Hampi utsav has to offer.
Apart from the competitions there also is a musical evening that adds to this festival. The soothing and soulful music especially the local Carnetic music is a favorite amongst the tourists.
The beautifully created puppets in the puppet shows, the huge processions on the streets of Hampi, the different colors and lights, the food and the fireworks and the likes are some of the highlights of this festival which attracts the tourists to visit Hampi utsav every year.
Apart from these events Hampi itself is a beautiful town not to be missed, like the Virupaksh temple which is still in use.
The other sites known for its architecture are the Lotus shaped fountains, the Lotus Mahal, the huge corridors of the Mahal having huge domes and verandahs, The Queen's bathing place, the musical pillars, the giant 6.7mts monolith, The Vitthala temple which is simply majestic, the Pushkarini tank, the elephant stables, the Ugra Narsimha, the Mahanavami dibba are some of the places to visit which are known for their grandeur and every place talks something about the history.
Hampi is well connected by road and can be reached there by using the state transport; KSRTC buses are available to Hospet, which is the nearest railway station for a train to Hampi.
Hampi is 353 kms from Bengaluru, the nearest airport. Bijapur, Hubli, Bellary, Belgaum and Guntakal are some of the other airports for Hampi.
By FW Editor
Date Added: 23 January '10
---
Add a link to this page on any related website, blog or forum using this code :

---