Agra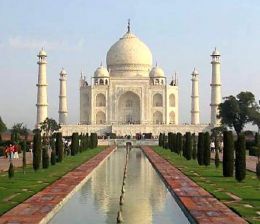 Agra, known the world over for its heritage and a land to one of the wonders of the world, Taj mahal, speaks volumes of its history and richness. Situated on the banks of river Yamuna in UP, North India it is a favourite tourist destination.
Agra was reined by The Moughals, who then made it their capital and also built the famous monuments which are known even today for its fascinating architecture and a peculiar style of design.
Agra is a land to some of the finest monuments like the Taj Mahal, Fatehpur Sikri and the Red fort. These were built around 16th -17th century and they are well known as the Moughals , then ruling Agra had a very interesting style of architecture, where the buildings consisted of huge domes and minute carvings.
Agra is known for such buildings and mausol eums. It is a great place for tourists who are thrilled to study different cultures, historians, architects etc.
Taj Mahal which stands high even today, with its White marble walls, is still an epitome of how true love should be. It was built by Shahjahan for his wife, Mumtaaz as a gift of his love, and from that day it is a hot spot for all lovers.
It is on the banks of river Yamuna with lush green gardens, and each wall of it tells one of the greatest love stories ever.
Fatehpur Sikri on the other hand, is called the victory city some distance away from the main city. Panch mahal, 5 storied towers is the highest point of Fatehpur Sikri.
Spreading across a radius of 3km, Red fort or Agra fort is an architectural marvel. Built in the 1565 A.D by King Akbar, it has the highest walls surrounding the fort.
Agra is also known for shopping. For people who want to buy things for their loved ones, Agra has the right stuff.
It is famous for leather. From leather bags to leather chappals, also called kolhapuri chappals, to belts, it has it all. It also sells replicas of Taj Mahal.
To make the visit more exciting, taking a Tonga ride is a great idea. The Tonga wallas take travellers for a ride right from the station. It is one of the cheapest modes of transport.
Agra also celebrates the Bateshwar fair in Feb which cannot be missed.
By FW Editor
Date Added: 16 September '10
---
Add a link to this page on any related website, blog or forum using this code :

---