Bermuda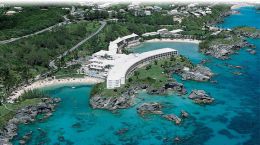 So small, yet so big
The Bermuda Islands (also known as the Somer Islands) are located to East of the United States mainland. It is, however, one of Britain's oldest British overseas territories. It is made up of 138 islands and covers an area 53,3 m2. The capital city is Hamilton, which is in Pembroke Parish, on the central north coast of Bermuda's main island.
Bermuda is home to the World Heritage Site of St. George's - considered to be the oldest continuously inhabited English town in the "New World", with over four centuries of history. St George's was founded in 1612, three years after Bermuda was found by accident when the Sea Venture was shipwrecked here in 1609, later immortalized in Shakespeare's "The Tempest". The town was originally referred to as New London and popu lated by British settlers. The town was named after St George, the patron Saint of England, by Admiral Sir George Somers.
The Islands are known for the pink, sandy beaches and natural beauty, where scuba enthusiasts can explore a number of underwater wrecks and coral reefs in virtually unlimited visibility.
For the winers and diners, there are over 80 restaurants and 40 cafeterias and coffee shops catering for every possible budget.
As for the cultural 'hunter' - Bermuda has many museums and places of interest, including:
- Maritime Museum, where the first prefabricated cast iron house in the world stands beautifully restored (Commissioner's House);
- Underwater Exploration Institute, view shipwrecks, shells, artifacts and a shark cage;
- The Crystal Caves - underground saltwater pools, and impressive stalactites;
- Fort Hamilton - walk through the underground tunnels forged through solid rock by the Royal Engineers in 1870s.
Eco-tourism in Bermuda offers numerous trails, viewing sea caves, parks, beaches
and nature reserves, over 850 acres of natural beauty to meander through. Ore even take a trip to the WindReach recreational Village, where one can view the Animal Zone, enjoy the swings, seesaws and sandboxes for the little ones. If you are the camping type, this venue offers overnight camping facilities and three accessible cabins, where one can enjoy a night by the campfire under the stars.
FamousWhy?: Bermuda shorts - gotta love them!
Image Source : bermudastyles.com
Date Added: 21 October '08
---
Add a link to this page on any related website, blog or forum using this code :

---