Sierra Leone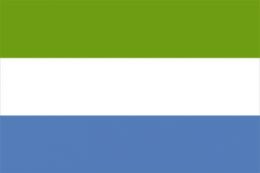 Sierra Leone is situated in the west of Africa.
Surface: 71.740 km²
Population: 4.460.000 inhabitants
Density of population: 64.3 inhabitants/km²
Capital: Freetown (470.000 inhabitants)
Official language: English
Official currency: leone
Imported products: food, petroleum
Exported products: diamonds, gold, bauxite, coffee, cocoa
Brut Intern Product: 900 million $
State type: republic
Geographical Characteristics:
The low coast plain is interrupted by a rocky pen-isle with a height of 888 m. the mangrove marshes and the forests lay along the coast. The plain occupies 100 km of the surface from the coast and then continues with a plateau which has 450 m. To the east the mountains have heights over 1.800 m.
Climate:
The temperatures are high all the time, the rains fall between April and November. The medium temperatures in Freetown are: 27° C in January and 26° C in July, with rainfall of 340 cm. The humidity is high in the rainy season and the weather can be unpleasant, this seaside was called by the old European colonists "The Tomb of White".
Agriculture:
65% of the people work in the agriculture; 255 of the country's surface is cultivated and 31% is grassland. They practice the sustenance agriculture and cultivate: rice, millet, manioc, palm seeds, coffee and cocoa. The north is arider and people grow cows, sheep and coats.
Fishing and Forestry:
Fishing is an important source of food which is practiced near rivers and along the coast. The forests bring incomes from nuts and wood. 29% of the country's surface is covered with forests.
Mining and Industry:
The minerals bring the greatest part of the extern incomes. They extraction of gold and diamonds, but also bauxite and chromium. Iron ores were important in the past, but nowadays they aren't so productive. Industry is based on mining and agriculture. In Freetown there are small processing industries.
Cities:
Freetown is the capital and the main port; in Bonthe is exported bauxite. The rivers are vital for the transport of merchandise and passengers in Sierra Leone.
Transport
The construction of a railway network was delayed in 1974. Sierra Leone has now only 84 km of railway from the old mining fields to the coast. There are 7.395 km of roads
Sierra Leone Lists
Date Added: 15 November '06
---
Add a link to this page on any related website, blog or forum using this code :

---