Essen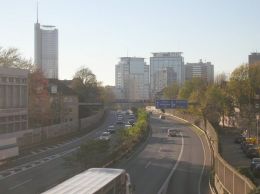 Essen is the sixth largest city in Germany, the second largest city in North-Rhine Westphalia and the largest city in the Ruhr District. Essen's population is 600,000.
Essen is the sixth largest city in Germany, the second largest city in North-Rhine Westphalia and the largest city in the Ruhr District.
The central location of the city of Essen within one of the largest economic areas in Germany, and its central position within a united Europe, provide clear advantages to the local economy.
History:
Essen was founded around 845 as a monastery for women which was among the most important monasteries in the 10th century, when it was led by Mathilde, a granddaughter of emperor Otto I, and two other women who were related to the Ottonian emperors, Sophia, a sister of Otto II I and Theophanu, a granddaughter of Otto II.
After the end of the Ottonian dynasty Essen lost its importance and remained a rather insignificant agricultural town until the 19th century.
The mining of coal and ore led to the growth of the city and of the entire Ruhr area. The Krupp family comes from Essen; their works established steel production in Essen in 1811. After having undergone major economic changes after World War II, Essen now hosts a high-class college of art, many industrial sights (Zeche Zollverein) and a major collection of art (Folkwang Museum).
On April 11, 2006 "Essen for the Ruhrgebiet" was declared European Capital of Culture for 2010. This decision is yet to be ratified by the European Culture Council.
Politics :
In a democratic state, political life is determined by different parliaments whose members receive their mandate in the Federal Republic of Germany by :
- general
- free
- secret
- equal
- direct
- elections.
In Essen, too, various German and non-German parties and groups shape everyday political life.
This page is intended to make it easier for you to access interesting information on the subject of politics in Essen.
Culture:
Aalto-Theater from Essen
With its spectacular opera and ballet performances, the Aalto-Theater sets new standards, but also with its daring architecture, a masterpiece by the world famous Finnish architect Alvar Aalto.
Old Synagogue
Built between 1911 and 1913, the Essen synagogue was one of the most beautiful and largest Jewish synagogues in Germany. During the pogrom night in November 1938, it was set ablaze by the Nazis.
Since 1980 the "Alte Synagoge" has been used as a place of remembrance and as a political/historical documentation forum.
Two permanent exhibitions on "Stationen ji¼dischen Lebens" ("Stations of Jewish life") and "Verfolgung und Widerstand in Essen 1933 bis 1945" ("Persecution and Resistance in Essen 1933 to 1945") as well as other non-permanent exhibitions provide one focus of activity; events on German, German/Jewish, and Jewish history provide another. Particularly important are activities dealing with current political and sociological questions.
Education :
University of Essen
The University of Essen is located at the centre of the densest higher education landscape in Europe. Around 24,000 students are registered in the 13 faculties, and with almost 6,000 employees in its scientific and non-scientific service the University of Essen, established on 1 August 1972, has a prominent position among Essen employers.
Folkwang College
The students at the Folkwang College for Music, Theatre, and Dance are good even before they start their studies and training; but, naturally, they only find fame afterwards - like Pina Bausch or Susanne Linke, Ji¼rgen Prochnow or Thekla-Carola Wied.
City Library
More than 800,000 citizens use the City Library every year as their preferred media and information centre in Essen.
Institute of Adult Education
The Essen Institute of Adult Education is one of the largest state recognized further education institutions in North Rhine Westphalia, and the main centre for further education operated by the City Council.
Transportation :
Traffic:
Situated centrally in the Rhine/Ruhr region, Essen is connected to an extensive traffic network. From all over Germany and from abroad Essen is easy to reach from all directions by car, train, plane, and even by water.
Within the Verkehrsverbund Rhein-Ruhr Essen provides a comprehensive local passenger transport service within the city and beyond, via its extensive links with the region.
Public Transport:
The first line to run over now-Essen territory was the Ki¶ln-Mindener Eisenbahn with a stop at Altenessen, opening between 1845 and 1847.
The southern line from Mi¼lheim an der Ruhr to Bochum wasn't opened until a few decades later. At said southern line, Essen main station is now situated, connecting the city to the Deutsche Bahn regional and long distance network. There are also several S-Bahn lines on city terrain, most notably to Bottrop and Ratingen via Kettwig.
Local transport is carried out by Essener Verkehrs-AG, a public company operating three Stadtbahn lines (partly with used Docklands Light Rail stock) and several tram lines as well as bus lines.
As a speciality, Essen has a Spurbus guided bus line on the median of the A40 autobahn connecting the borough of Kray, as well as a Stadtbahn line on the median of the same autobahn leading towards Mi¼lheim.
Essen also has an U-Bahn system. All local and DB regional traffic is subject to the fare structure of the VRR transport association.
Twin towns :
- City of Sunderland (United Kingdom), since 1949
- Tampere (Finland), since 1960
- Grenoble (France), since 1974
- Nizhny Novgorod (Russia), since 1991
- Tel Aviv-Jaffa (Israel), since 1991
Essen Lists
Date Added: 16 July '08
---
Add a link to this page on any related website, blog or forum using this code :

---