Burundi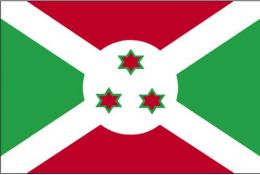 General Facts :
Surface: 27.834 km²
Population: 5.620.000 inhabitants
Density of population: 202 inhabitants/km²
Capital: Bujumbura (273.000 inhabitants)
Exported products: coffee, tea, bananas, cotton
Imported products: sugar, oil, textiles, drinks
Official language: French and Kirundi
Official currency: Burundi franc
Brut Intern Product: 210 million $
State type: Republic
Geographical Characteristics :
The country is situated in the center of Africa and along the great east-African tectonic fracture, Rift Valley. Its relief is broken with mountains in the central region which have maximum heights of 2.685 m and pass to west and east into high plateaus covered by savanna and cultures. In the north of Tanganyika Lake there is the Imbo Plain, drained by Rus izi River.
Climate, Vegetation and Faun :
The climate is tropical moderated by the altitude and rainfalls. The medium amount of rainfall is between 1.000 and 1.400 annually. The short rivers go to the Tanganyika Lake with the exception of Kagera-Mukasenyi River, which is considered the most south spring of Nile. Only 2% of the country's surface is covered by forests. They are present along rivers. The faun is various and includes elephants, lions, monkeys, colored birds and many others.
Population and Cities :
The capital of the country is Bujumbura and has 273.000 inhabitants. The country has 5.620.000 inhabitants. The birth rate is 47.6‰ and the death rate is 17.9‰. Only 12% of the population lives in cities. The most important cities are: Kitega (95.000 inhabitants) and Ngozi (20.000 inhabitants). All the people are black: 85% of them are Hutu, 14% are Tutsi and 1% is Pigmies. The population is concentrated in the north and central part of the country and the density of population there is 300 inhabitants/km². in the lower regions in north-west, south and south-east the density is lower and there are under 100 inhabitants/km². The most important religions are: Orthodoxies 80%, Animism and Islamism.
State :
The country is a presidential republic according the Constitution in 1992. The legislative activity is exerted by the President and the executive one by a cabinet named by the President. The National Assembly was dissolved in 1987. The political parties are: the Liberation of Hutu People Party and the Committee of Solidarity for Peace in Burundi and they activate in exile.
Economy :
The country hasn't access to the sea. Bujumbura is 1.400 km away from the nearest port. The mineral resources are few with the exception of nickel. Burundi is one of the poorest countries on Earth. Agriculture is the main economical activity and is practiced on almost 80% of the country's surface. The country is specialized in producing coffee which assures between 75 and 85% of the exports. People also cultivate tea, rice, cotton, bananas and for the internal needs bean, sorghum, corn and manioc. Growing animals like goats and cows has a secondary weight. The processing industries allow a limitation in imports.
Burundi Lists
Date Added: 22 November '06
---
Add a link to this page on any related website, blog or forum using this code :

---