Andorra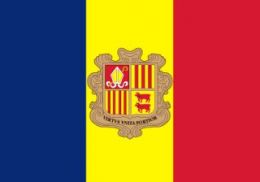 General Facts :
Surface: 453 km²
Population: 58.000 inhabitants
Density of population: 128 inhabitants/km²
Capital: Andorra la Vella (16.000 inhabitants)
Official language: Catalonian
Official currency: French Franc
Imported products:
Exported products:
Brut Intern Product: 9.834 $/inhabitant
State type: Principality
Geographical Characteristics :
The country is situated in the South-West of Europe, in the Pirinei Mountains and also in the superior basin area of Valira River. Andorra is disposed between 840 and 2.975 m altitude. The highest peak is Coma Pedrosa Peak. There can are be seen everywhere marks of the quaternary glacial age.
Climate and Faun :
The winters are very cold with avalanches. In the zones with altitude under 1.000 m peo ple cultivate grapes. The pine and black pine forests occupy 1/4 of the country's surface. The rest is covered with grassland and cultivated land. The most important animals which live in the forests are black goats and the capercailzies.
Population and Cities :
The country has 58.000 inhabitants. The birth rate is 11.7% and the death rate is 3.8%. The most important cities are: Les Escalde (12.000 inhabitants) and Sant Julia de Loria (5.000 inhabitants). The capital of the country is Andorra la Vella (16.000 inhabitants). The population is formed of Andorrans (27%), Spanish (55%), French (7%), Portuguese and others. They live in 10 localities (4 cities) in the two Valira Valleys, where is concentrated 2/3 of the population. Most of the people (99%) are Catholics.
State :
Andorra is an autonomic principality according to the constitution in 1922. The legislative activity is exerted by the General Council and the executive by permanent delegates and the Executive Council which is chosen by the General Council. One of the political parties is the Democratic Party of Andorra.
Economy :
The main source of incomes is tourism which forms with the trade 95% of the Brut Intern Product. The financial activity is active and the country is named the Hong Kong of the Catalonia. The number of tourist has been growing and in 1992 was 13 millions. The agriculture is practiced on small territories. People cultivate grapes, potatoes and others. They have small industries of processing tobacco, textiles and wood. The tourism traffic is encouraged by the low custom taxes and adequate infrastructure.
Date Added: 20 November '06
---
Add a link to this page on any related website, blog or forum using this code :

---