Zaragoza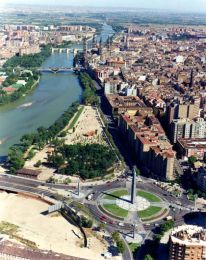 Zaragoza is the capital city of the autonomous region and former kingdom of Aragon in Spain, and is located on the river Ebro, and its tributaries the Huerva and Gallego, near the centre of the region, in a great valley with a variety of landscapes, ranging from desert (Los Monegros) to thick forest, meadows and mountains.
Demographics:
According to data from Zaragoza council from 1 January 2004, the population of the city of Zaragoza was 641,581. The population of the metropolitan area was estimated in 2003 at 656,922 inhabitants, ranking fifth in Spain. The municipality is home to more than 50% of the Aragon population. The city is 199 metres above sea level, and constitutes a crossroads between Madrid, Barcelona, Valencia and Bilbao, all about 300 kilometres (200 miles) fro m Zaragoza.
History:
Zaragoza was the scene of two famous martyrdoms: those of Saint Dominguito del Val, a choirboy in the basilica, and Pedro de Arbues, an official of the Spanish Inquisition.
From 1013 to 1110 Zaragoza was one of the taifa kingdoms, independent Muslim states which emerged in the 11th century following the destruction of the Cordoban Caliphate. During the first three decades of this period, 1013-1046, the city was ruled by the Banu Tujibi. In 1046 they were replaced by the Banu Hud who ruled until they were defeated by the Almoravids.
Zaragoza suffered two famous sieges during the Peninsular War: a first from June to August 1808; and a second from December 1808 to February 1809.
During the Spanish Civil War it was briefly liberated from Fascism by the Durruti Column, led by Buenaventura Durruti.
Culture:
Zaragoza is linked by legends to the beginnings of Christianity in Spain. According to legend, the Virgin Mary appeared miraculously to Saint James the Great in the 1st century, standing on a pillar. This legend is commemorated by a famous Catholic basilica called Nuestra Senora del Pilar ("Our Lady of the Pillar").
The event, called "Las Fiestas del Pilar", is celebrated on October 12 which is a major fiesta in Zaragoza. Since it coincided in 1492 with the discovery of America by Christopher Columbus, that day is also celebrated as El Dia de la Hispanidad (Columbus Day, literally Hispanic Day) by Spanish-speaking people worldwide.
Soccer Team:
Zaragoza is strongly associated with Jaca in its bid for the 2014 Winter Olympics. It would host the Opening and Closing ceremonies (at La Romareda stadium), as well as most of the ice events venues.
Zaragoza's football team, Real Zaragoza, play in the Primera division.
External Links:
Zaragoza - Wikipedia, the free encyclopedia
Universidad de Zaragoza
Real Zaragoza
Google Images of Zaragoza
Date Added: 09 July '06
---
Add a link to this page on any related website, blog or forum using this code :

---