Yekaterinoburg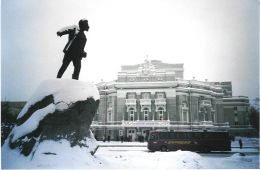 Yekaterinoburg is a major city in the central part of Russian Federation, the administrative center of Sverdlovsk Oblast. Situated on the eastern side of the Ural mountain range.
Yekaterinoburg is the main industrial and cultural center of the Urals Federal District. Its population of 1,293,537 (2002 Census) makes it Russia's fifth largest city. Between 1924 and 1991, the city was known as Sverdlovsk , after the Bolshevik leader Yakov Sverdlov.
The city was founded in 1723 by Vasily Tatischev and named after Saint Catherine, the namesake of tsar Peter the Great's wife Catherine (Yekaterina). It was renamed Sverdlovsk after the Bolshevik party leader and Soviet official Yakov Sverdlov from 1924 to 1991.
Soon after the Russian Revolution, on July 17, 1918, Tsar Nicholas II, his wife , Alexandra, and their children Grand Duchesses Olga, Tatiana, Maria, Anastasia, and Tsarevich Alexei were executed by Bolsheviks in this city.
In the 1920s Yekaterinburg became a large industrial center of Russia. The heavy machinery factory Uralmash, the biggest in Europe, was built.
Between 1932 and 1937, Chiang Ching-kuo, president of the Republic of China from 1978 until 1998, worked in Ekaterinburg on the Ural Heavy Machinery Plant (Uralmash). In Ekaterinburg he met his wife Faina Ipatyevna Vakhreva.
During World War II, many government technical institutions and whole factories were evacuated to Yekaterinburg from the war-affected areas (mostly Moscow) and many remained in Yekaterinburg after the war was over.
In the 1960s, during the Khruschev government, many similar five-storey apartment blocks were built around Yekaterinburg. Most of them still remain today in Kirovsky, Chkalovsky, and other residential areas of Yekaterinburg.
On May 1, 1960, an American spy-plane U-2, piloted by Francis Gary Powers, was shot down over Yekaterinburg. The pilot was captured and later exchanged for Rudolph Abel, a Russian spy in the United States.
There was an anthrax outbreak in Yekaterinburg (then Sverdlovsk) in April and May 1979, which was attributed by Soviet officials to the locals eating contaminated meat. However, American agencies believe that the locals inhaled spores accidentally released from an aerosol of pathogen at a military microbiology facility. Dr. Kanatjan Alibekov's account of the outbreak in his book Biohazard agrees with the American agencies' view.
Yekaterinburg, still called by it soviet name Sverdlovsk in timetables, is an important railway junction on Trans-Siberian Railway, with lines radiating to all parts of the Urals and the rest of Russia. As the economic slump subsided, several European airlines started or resumed flying to the city's Koltsovo International Airport (SVX). These include Lufthansa, British Airways and CSA Czech Airlines.
The Yekaterinburg Metro was opened in 1991.
Yekaterinoburg largest city in the Urals and one of the top five in Russia, and has a number of consulates of major countries. For people wishing to make a visa application and needing to attend interview, this can easily take a half-week off the travelling time to get to the interview (in the event that there are internal flights to Yekaterinburg, they may only be once per week).
This article is licensed under the [GNU Free Documentation License]. It uses material from Wikipedia
Date Added: 26 April '06
---
Add a link to this page on any related website, blog or forum using this code :

---