Ufa
| | | | | | | |
| --- | --- | --- | --- | --- | --- | --- |
| Q: | | | | | | |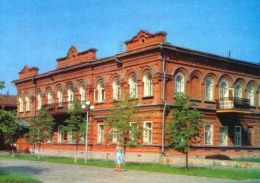 Ufa is the capital of the Republic of Bashkortostan, Russia. Population: 1,036,026 (as of January 1, 2005; as of 2002 census: 1,042,437).
Ufa is one of the industrial centres in the Western Urals area, and is situated at the confluence of the Belaya and Ufa rivers. Industries include electrical and mining equipment, oil refining, petrochemicals, synthetic rubber, and processed foods.
Ufa began as a fortress built on the orders of Ivan IV in 1574, and originally bore the name of the hill it stood on, Tura-Tau. The city began to be called Ufa, meaning "small" in Turkic, by locals and the name stuck. In 1802, Ufa became the principal city of Bashkiria.
Educational institutions include Bashkir State University.
Famous natives of Ufa include rebel Salavat Yulayev, painter Mikhail N esterov, dancer Rudolf Nureyev, NHL ice hockey player Andrei Zyuzin and rock singer Zemfira.
This article is licensed under the [GNU Free Documentation License]. It uses material from Wikipedia
External Links :
Ufa - Wikipedia, the free encyclopedia
Ufa State Aviation Technical University
Ufa Lists
Date Added: 26 April '06
---
Add a link to this page on any related website, blog or forum using this code :

---