Syria
| | | | | | | |
| --- | --- | --- | --- | --- | --- | --- |
| Q: | | | | | | |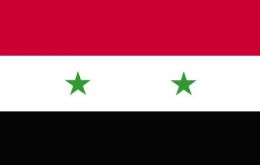 Surface: 185.180 km²
Population: 12.993.000 inhabitants
Density of population: 65 inhabitants/km²
Capital: Damask
Official language: Arabian
Official currency: Syrian lira
Brut Intern Product: 25 billion $
State type: Republic
Imported products: car pieces, steel, iron, food, chemical, mineral and petroleum products, wood
Exported products: petroleum, brut cotton, textiles, animals, fruits
Agriculture
30% of Syria's surface is cultivated and 45% is grassland. Most cultivated: rice, fruits, sugar cane, cotton, grain and tobacco. The olive trees occupy large territories. There are 12,7 millions of sheep, 1,6 millions of goats and 710.000 cows.
Geographical Characteristics
The plain on the Mediterranean Sea coast is followed by the Jebel el Ansariye Mountains and after them there is the Ghab Depression, part of Great Rift valley. In the interior the north of Syria is an arid or semiarid depression. The earth is higher in the south of Syria. The highest peak of the Jesh Sheikh Mountains is Hermon (2.814 m).
Climate
The coast has Mediterranean conditions but in the interior of the country the medium temperature during the summer is 40º C and during the spring is 0º C. the rainfall is 10 cm per year in the interior of Syria and 75 cm in the mountains on the coast. The peaks of the mountains are full of snow for six months per year. Deir ez Zor, in the desert, has medium temperature of 7º C in January and 34º C in July, and the amount of rainfall is 16 cm. the numbers for Alep, in North, are: 5º, 29º C and 39 cm, and for Damasc: 7º C, 27º C and 22 cm.
Mining
The country has deposits of phosphates, chromium manganese, iron, natural gas and petroleum, which is the main resource. They extract annually 14 million tones of petroleum and 75 million m³ of natural gas. The most important fields with petroleum are in north-east.
Industry
The main industries are: mining, textile, food, tobacco and cement industries. In all the important cities there are textile products, cotton, wool, silk and synthetically products. There are many cement factories and near Homs developed recently chemical products industries. Hama has metallurgical industries.
Cities
Damask (1.378.000 inhabitants) is an oasis city on Barada River and is one of the oldest cities of the world. The modern citi was designed in 1929, along with the biblical city, and is an important industrial center. Alep (985.413 inhabitants) is the second city as size and Homs (346.871 inhabitants) is the third.
External Links:
Ministry of Tourism - Syria
Syria - Wikipedia, the free encyclopedia
Syria Gate - The best information resource about Syria
Date Added: 29 November '06
---
Add a link to this page on any related website, blog or forum using this code :

---