South Korea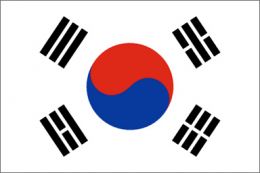 Surface: 98.758 km²
Population: 43.531.000 inhabitants
Density of population: 441 inhabitants/km²
Capital: Seoul (10.915.000 inhabitants)
Official language: Korean
Official currency: Won
Imported products: petroleum
Exported products: silk, cotton, wool, rice
Brut Intern Product: 5.102 million $
State type: Republic
Geographical Characteristics
The country is situated in the east of Asia. The relief is formed mostly of hills and mountains with relative low altitudes. The Taebaek Mountain Chain finishes abrupt to the Japan Sea where a linear coast forms. In the west of Sobaek Mountain Chain, which has a maximum altitude in Chiri Peak - 1.915 m, there are displayed hills which fall in steps to a coast plain situated along the yellow Sea. The main rivers are Han and Kum in west and Naktong in south-east. They are important for irrigations.
Climate
The climate is temperate with monsoon influences which bring rich rainfalls (1.500 mm annually). The summers are hot with a medium temperature of 24°C in August and the winters are gentle with 0°C in January along the southern coast. The forests occupy approximately 2/3 of the territory and have a tropical aspect. The faun is various and rich and the country has many protected areas.
Population and Cities
The capital of the country is Seoul and has 10.915.000 inhabitants. The country has 43.531.000 inhabitants. The birth rate is 16.4% and the death rate is 5.8%. 72% of the population lives in cities. The most important cities are: Pusan (3.9 million inhabitants), Daegu (2.3 million inhabitants), Inchon (1.7 million inhabitants), Kwangju (1.2 million inhabitants), Daejeon (1.1 million inhabitants), Ulsan (0.65 million inhabitants), Pudron (0.64 million inhabitants), Songnam (0.53 million inhabitants), Suwon (0.5 million inhabitants) and Masan (0.5 million inhabitants). All the people are Korean and they are concentrated in north-west and the fertile plains in south. The most important religions are: Buddhism 35%, Protestantism 23%, Confucianism 15% and Catholicism 5%.
State
The country is a presidential republic according to the Constitution in 1988. The legislative activity is exerted by the President and the National Assembly and the executive by the State Council. The political parties are 6 and some of them are: the Liberal Democrat Party, the Democrat Party, the National unification Party and People's Party.
Economy
The economy is developed and based especially on the processing industry. 33% of the population works in industry. Some of the important industries are: textile, cotton, wool, petroleum, naval constructions, car and electronic. The mineral resources are various but little. Agriculture is an important segment for economy. People cultivate: rice on more than 50% of the cultivated surface and a quantity of 8 million tones per year, cotton, soy and barley. Fishing is important and the country is in the first 10 countries in producing it (3 million tones annually).
South Korea Lists
Date Added: 14 December '06
---
Add a link to this page on any related website, blog or forum using this code :

---