Saratov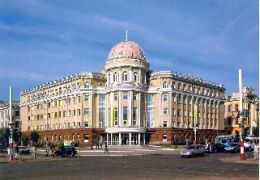 Saratov is a major city in southern European Russia. It is the administrative center of Saratov Oblast and a major port on the Volga River.
Saratov population is about 873,000 . In addition to the ethnic Russians, Saratov also has many Tatar, Ukrainian and German residents.
History :
The Legend of Saratov: Gelon, a legendary Scythian city, the northernmost Greek colony. Mentioned by Herodot in the book VI. In 512 B.C. Gelon was burnt out by the Emperor Dariy Gistasp. Supposedly Gelon was situated in the locality of Saratov.
The ancestor city of Saratov was Ukek.
During the reign of tzar Fedor Ioannovich several settlements were built in order to fortify the state borders. During the summer of 1586 Samara fortress was founded, in 1589 - Tsaritsyn (later called Stalin grad and now called Volgograd) fortress was build in the place where Volga River and river Don come close to each other. Saratov was build in 1590 halfway between Samara and Tsaritsyn by count Grigory Zasekin. All the building were constructed of wood in the upper current of Volga River one year prior to the city founding. In spring the constructions were disassembled, every log marked, and all the town was delivered to the pre-defined place. Such method allowed to completely build the town within several weeks.
Saratov became an important shipping port in the 1800s, and developed industrially after a railroad linking it to Moscow was finished in 1870.
From Soviet times until 1992, Saratov was a "closed city", strictly off limits to all foreigners. Situated on the Volga River, this was a major military aircraft manufacturing site, the home of the first man in space, Yuri Gagarin, and a vital part of the Soviet space programme.
Saratov region is rich not only in natural and industrial resources. The region is also famous for being one of the largest cultural and scientific centres in Russia. In Saratov there are six institutes affiliated with the Russian Academy of Sciences, 21 research institutes, 19 project institutes, Saratov State University and many scientific and technological laboratories at the largest industrial enterprises, these account for the scientific potential for solving both fundamental and applied problems.
Famous People :
Saratov land was birthplace or hometown, at one time or other, to the genius biologist Nikolai Vavilov, the notable professor and engineer Naum Rabovetsky, painter Mikhail Vrubel, aircraft designer Oleg Antonov, writer Mikhail Bulgakov, philosopher Nikolai Chernyshevsky, architect Fyodor Shekhtel, chemist Nikolai Zinin, poet Gavrila Derzhavin, composer Alfred Schnittke, academician Guriy Marchuk, cosmonaut Yuri Gagarin, space radio telephone communications designer Yuri Bykov, and, of course, billionaire
Roman Abramovich
.
Gottlieb Nathaniel Bonwetsch, German protestant theologain, born on Norka near Saratov.
This article is licensed under the [GNU Free Documentation License]. It uses material from Wikipedia
Saratov Image : uwyo.edu
External Links :
Saratov.Ru - Saratov Official Website
Radischev Art Gallery
Google Images of Saratov
Saratov Lists
Date Added: 29 April '06
---
Add a link to this page on any related website, blog or forum using this code :

---