Samara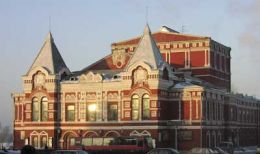 Samara is a major city situated on the Volga River in the southeastern part of European Russia, Volga Federal District, the administrative center of Samara Oblast.
Samara was founded in 1586 as a defense outpost, and later grew into a major grain-trading center for the Volga region.
Samara is a large industrial and transportation center of European Russia. Important manufacturing in the metropolitan area of Samara-Togliatti-Syzran with a population of more than 3.0 million people is concentrated in motor vehicle (VAZ-GM and SOK Group), railroad equipment, chemicals, oil and gas (Yukos), machinery, metal (Alcoa), and confectionery (Nestle) industries. The city also has an aerospace industry, namely TsSKB-Progress, producing the Soyuz and Molniya launch vehicles. Due to this industry Samara was a closed city during the Cold War.
Samara was the secondary capital of the Soviet Union from 1941 to 1943 when German troops threatened Moscow.
Along with its many universities (including Samara State University), theaters and museums, Samara is also a major intellectual and academic center in Russia. The city is served by highways and railways, as well as international airlines, among them Lufthansa flying to and from Frankfurt, or CSA Czech Airlines flying to and from Prague with convenient connections worldwide, which makes it an attractive tourist destination as well. Kurumoch airport code is KUF. It also has a rapid transit system, the Samara Metro, though with only 8 stations at present.
One popular tourist location in Samara is Stalin's bunker, a World War II bunker built to house military operation in the event that Moscow was taken. This monument is located south west of Kuybyshev Square, behind a series of apartment complexes.
Samara is also a model name of a Lada car made by the VAZ auto company in Togliatti, in Samara Oblast.
This article is licensed under the [GNU Free Documentation License]. It uses material from Wikipedia
Samara Image: theyoungs2russia.org
Samara Lists
Date Added: 26 April '06
---
Add a link to this page on any related website, blog or forum using this code :

---