Perm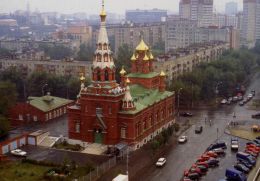 Perm is a city in and administrative center of Perm Krai, Russia. It is situated on the banks of the Kama River, at the foot of the Ural Mountains.
Perm population is 1,001,653 (2002 Census).
Perm was populated by pagan Finno-Ugric tribes who lived to the southeast of the legendary Bjarmaland and northeast of Volga Bulgaria. Between the 13th and 14th centuries, Russian fur traders and Christian missionaries from Novgorod and later Moscow founded first settlements in the area. In the 15th century, the Perm region, because of its highly profitable fur trade, was object of bitter rivalry between Novgorod and Moscow and in 1472 Perm was finally annexed by Muscovy. In the late 15th and early 16th centuries, soldiers, merchants, Christian monks, and priests were followed by Tsarist adminis tration and peasant settlers from the western Russia.
Perm was founded on May 17, 1723, and has had town status since 1781. By 1797 it was already an administrative center of gubernia with the same name.
Perm became a major trade and industry center in the 19th century, with a population of more than 20,000 people in the 1860s and several metallurgy, paper and steamboat producing factories including one owned by a British entrepreneur. In 1870 opera theatre was open in the city and in 1871 the first phosphoric factory in Russia was built in Perm.
In 1916 Perm State University was open - a major educational institution in modern Russia. After the outbreak of the Russian Civil War Perm became a prime target for both sides because of its military munitions factories. In December of 1918 Siberian White Army of admiral Aleksandr Kolchak took Perm but few months later it was captured by the Red Army. Grand Duke Mikail Alexandrovich was executed in the outskirts of Perm with his secretary Nicholas Johnson on June 12, 1918 on the orders of the Perm Cheka. Their bodies were never recovered. Few weeks later on July 7, 1918 Andronic Nikolsky Archbishop Of Perm was also murdered by the Bolsheviks in the city. In 2000 the Russian Orthodox Church glorified him as Hieromartyr Andronik, Archbishop Of Perm, one of the Russian New Martyrs and Confessors.
Perm grew as a major industrial city and aviation, shipbuilding and chemical factories were built there. The process continued after the 1940s and virtually every major industry became represented by numerous factories of Perm. To this day almost 80 % of the city's population employed in manufacturing.
Famous People :
Sergei Diaghilev - ballet impresario
Tatiana Borodina - opera soprano
Nikolai Moiseev - astronomer
Perm is a major administrative, industrial, scientific, and cultural center. The leading industries include machinery, defence, oil production (about 3% of Russian output), oil refining, chemical and petrochemical, timber and wood processing and the food industry. Perm is a home to several major universities including Perm State University, Perm State Technical University and Medical Academy.
This article is licensed under the [GNU Free Documentation License]. It uses material from Wikipedia
Perm Image : msses.ru
Date Added: 27 April '06
---
Add a link to this page on any related website, blog or forum using this code :

---