Penza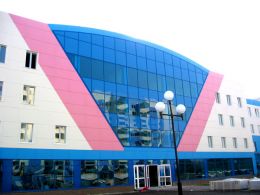 Penza is a city in Russia, the administrative center of Penza Oblast in the Volga Federal District. It stands on the Sura River, 625 km south-east of Moscow. Penza's Population: 518,025 (2002 Census).
History:
Penza was founded in 1663 as a frontier outpost on the then southeastern border of Russia. During the 18th century Penza became an important trade center.
In 1774, Penza was taken by insurgent army Yemelyan Pugachev, citizens of the town themselves opened the gates of Penza to rebellious Cossack. The city of Penza bears the name of the river that it was originally built upon. As it was originally a frontier city, many of the early houses were wooden and emerged without any central plan. The first stone houses were built after 1801 and by 1809 Penza's population grew to more than 13,000 people. One of the most famous Russian poets Mikhail Lermontov grew up near Penza in the late 1810s and 1820s.
During the Russian Civil War, Czechoslovak Legions anti-Bolshevik uprising started in Penza.
During the Soviet period Penza developed as a regional industrial center. Natives of Penza include Vsevolod Meyerhold, AndreiŻ Makine, Nikolai Ishutin, Aristarkh Lentulov, and Ivan Mozzhukhin.
The city - nowadays:
Currently, the city of Penza is seen as a regional center for higher education. It has five universities (The State Technical University, The Pedagogic University, The Academy of Agriculture, The Technology Institute and the Institute of Civil Building), 13 colleges and 77 public schools. Besides this, Penza is home to three theatres, four museums, and three art galleries.
In a topographical sense, Penza greatly differs from the cities around it because of its rolling hills and dense surrounding forests.
This article is licensed under the [GNU Free Documentation License]. It uses material from Wikipedia
External Links:
Penza - Wikipedia, the free encyclopedia
Google Images of Penza
Penza Lists
Date Added: 09 July '06
---
Add a link to this page on any related website, blog or forum using this code :

---