Nigeria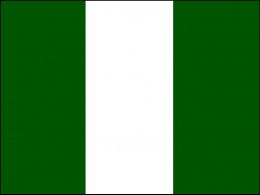 Surface: 923.773 km²
Population: 93.300.000 inhabitants
Density of population: 95,8 inhabitants/km²
Capital: Abuja
Official language: English
Official currency: naira
Imported products: iron, steel, textiles, car pieces, cars
Exported products: petroleum, cacao, palm products, rubber, nuts, wood
Brut Intern Product: 31.344 million $
State type: federal republic
Geographical Characteristics:
The coast depressions are covered with mangroves in many places especially in the delta of Niger. Nigeria has a plateau called Low Plateau with a height of 1780 m. The highest peak is Mount Vogel (2.024 m) in Gotel Mountains. The river Niger and its principal tributary, Benue, unite in Lokoja and flow to south in Guinea Golf.
Climate:
The climate is strongly influenced by the annual movements of the inter-tropical band of clouds and the rain. The south of the country has two rainy seasons, between April and June the first and the second between September and October, but in the north it rains especially between July and September. When the weather is arid the harmattan winds blow from the Sahara Desert. In Lagos the medium temperatures are: 29 Celsius degrees in February and March and 25 Celsius degrees in the rainy season. The rainfall is over 180 cm.
Population:
Nigeria is the most populated country of Africa. 50% of the people are Moslems and live in the north and west of Nigeria and 40% are Christians. The official language is English, but the most spoken is hausa. There are over 250 ethnical groups, but Hausa and Fulani people live in north, the Ibo people live in south-east and Yoruba in south-west ant they all are 2/3 of the population.
Agriculture:
Over 66% of the population works in the agriculture and 36% of Nigeria's surface is fertile. The principal cultures are the ones of rice, manioc, bananas, palm oil, nuts, millet and rubber.
Mining:
The petroleum represents over 90% of Nigeria's exports. The amount of petroleum produced is approximately of 90 million tones. There are also deposits of natural gas, coal and lead.
Energy:
Nigeria is rich in energy obtained from petroleum, natural gas and coal. In Kainji developed a hydro-electric station, but the thermo-electric power centrals are important too.
Industry:
Mining creates the petroleum industry in Warri, Kaduna and Harcourt. Other industries are: processing palm oil, nuts, cotton, rubber, wood and leather. The main industrial cities are: Lagos, Ibadan, Enugu, Kano and Port Harcourt.
Major Cities in Nigeria:
Lagos extended in many islands on the coast fields. It is the main city, but is not the capital anymore. There was built a new capital in Abuja, 500 km away from Lagos. Ibadan is the second city as size and it is placed in the middle of an agricultural region.
Transports:
Nigeria has 3.505 km of railway and 142.837 km of road. The main port is Lagos.
Date Added: 15 November '06
---
Add a link to this page on any related website, blog or forum using this code :

---