Nepal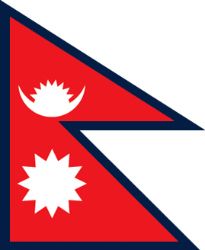 Surface: 140.747 km²
Population: 19.360.000inhabitants
Density of population: 199 inhabitants/km²
Capital: Katmandu (360.000 inhabitants)
Official language: Nepalese
Official currency: Nepalese rupia
Imported products: textiles, transport machines, medicines, car pieces
Exported products: cereals, carpets, leather, textile plants, spices
Brut Intern Product: 3.600 million $
State type: Kingdom
Geographical Characteristics
Nepal is situated to a very high altitude and its surface is represented by mountains and also some depressions. In the north side there are Himalaya Mountains with the highest peak in the world Everest (8848 m). In the south the altitude decrease and continues with Gange's Plain. The main depression region is Terai, a narrow plain and sometimes ful l of swamps.
Climate
The climatic conditions are very influenced by the altitude and there are considerable variations of temperatures and rainfall on short distances. In the east side the rainfall appears with the rainy season in summer but in the west the winds influence just a little the rainfall. In the high mountains the rain becomes snow. The rainfall is 75 cm per year in depressions and over 100 cm on the low hills. The temperature is addicted to height. The medium temperatures in Katmandu are 25°C in July and 10°C in January and the rainfall is near 80 cm per year.
Agriculture
Most of the Nepal's economy is based on agriculture. 80% of the people work in agriculture but the cultivated surface is not very large because of the geographical characteristics. For food they cultivate grain, barley, millet, corn and rice and also for commerce they cultivate mandarins, oranges, apples and potatoes. The vegetables and fruit are important sources of food and they also cultivate sugar cane, textile plants and medicinal plants. Nepal is an important illegal producer of cannabis. They grow cows, sheep and some goats. 33% of the country's surface is covered with forests. Terai Plain and the low hills brings hard essence and soft essence wood which is an important source of incomes
Industry
The industry is not very developed and is based on processing the local products like metals, wood, wool, leather and agricultural products. There are also important industries for carpets, hand-made objects and silk processing. In Nepal they also produce cement and exists industries for processing rice, textile plants and sugar cane and also for producing cigarettes and postal marks. Tourism is very developed and brings a lot of incomes.
Cities and Transports
Katmandu (360.000) is the capital of the country and has a lot of old and very beautiful buildings, including palaces and temples. It is the main commercial and cultural center. Others cities are Patan, Birgam, Raxaul and Pokhara.
Date Added: 12 December '06
---
Add a link to this page on any related website, blog or forum using this code :

---