Namibia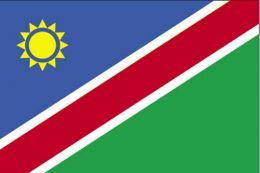 Statistics
Surface: 824.268 km²
Population: 1.510.000 inhabitants
Density of population: 1.7 inhabitants/km²
Capital: Windhoek
Official language: English
Official currency: Namibian dollar
Imported products: alimentary products, car pieces
Exported products: fish, diamonds, sheep, cows
Brut Intern Product: 1.800.000.000 $
State type: republic
Geographical Characteristics:
The Namib Desert, along the coast, has a breadth of approximately 100 km. The interior of the country is a plateau with medium height of 1.100 m. There aren't any permanent rivers, the rainfall are reduced.
Walvis Golf has total rainfall of 2 cm per year, and the medium temperatures are: 19C in January and 14C during the springs. In the interior of the country the weather is wetter.
In Windhoek (1.700 m) there are medium rainfall of 36 cm, mostly between November and March; the temperatures are: 23C in the summer and 13C in the spring.
Industry and Mining:
The mining grows the BIP with 30% and the exports with 72%. The diamonds and uranium are the main minerals extracted (gold is extracted from Navachab).
There are also deposits of coal, silver, zinc and lead. The processing of meat and fish take place in Windhoek. The annual production of fish is over 1 million tones.
Namibia Agriculture:
16% of the population works in the agriculture. There is cultivated under 1% of Namibia's surface, 64% are grasslands. The Namibians export: cows, sheep, and sheep leather. The main cultivated plants are corn, grain and vegetables.
Namibia Lists
Date Added: 13 November '06
---
Add a link to this page on any related website, blog or forum using this code :

---