Mozambique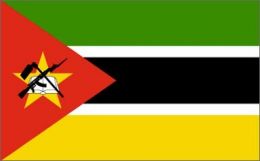 Surface: 1799.380 km²
Population: 16.110.000 inhabitants
Density of population: 18 inhabitants/km²
Capital: Maputo
Official language: Portuguese
Official currency: metical
Imported products: car pieces, agricultures machines, textiles, iron, steel, food, petroleum
Exported products: shrimps, anacard, copra, tee, cotton, sugar, sisal
Brut Intern Product: 1.288 million $
State type: Republic
Geographical characteristics:
Mozambique is divided by Zambezi River in two parts. In the north there is a coast plain with a plateau which has a height of 800-1000 m and some mountains along border with Malawi. In the south there is a depression with a seaside full of mangrove forests. In the interior of the country the most of the surface is low level but exist some rocky regions including Binga Peak (2.436 m) the highest in the country.
Climate:
The depression region is hot and wet almost all the year and the highlands are pretty hot even in the winter. The warm current Mozambique, along the coast is the support for the good temperatures. The rainfall is constants almost all the year. On the south coast between Beira and Maputo the rainfall is 100-150 cm per year. The temperatures in Maputo are 26°C in January and 18°C in July and the rainfall is 75 cm per year especially between November and March. The vegetation is in principal savannah and some tropical forests in the north-west side.
Agriculture:
More than 80% of the people work in agriculture but only 4% of the surface of the country is cultivated and 65% are grasslands. They cultivate corn, sorg, potatoes, igname, manioca, peanuts and bananas. For trading they cultivate cotton, anacard, sugar cane, tee tree, copra, sisal and rice. The Zambezi River and Limpopo River are used for irrigations. They grow over a million cows and also goats, sheep and pigs.
Mining and Industry:
In the earth of Mozambique it exists iron ore, copper, diamonds, coal, bauxite, gold and titanium. 80% of the electric energy is obtained from hydro electric stations, especially in Cabora Bassa. The industry is based on local products like sugar, cotton, copra, anacard and wood. There are some glass and cement's factories and some chemical workshops. Fishing of shrimps brings over 40% from the export incomes.
Cities and Transports:
Maputo, known in the past as Laurenco Marques is the administrative center and the main port, industrial center and touristy place. Beira (299.300 inhabitants), the second city as size is an important port and an industrial center. Nampula (202.600 inhabitants) is the third city as size. Nacala and Quelimane are important ports in the north. The country has 3.131 km of railway and 28.000 km of roads. The most of the routes are between east and west but they started to construct some routes between north and south. The railways are connected with South Africa, Swaziland, Zimbabwe and Malawi. Mozambique also has 3.750 km navigable ways.
Date Added: 15 November '06
---
Add a link to this page on any related website, blog or forum using this code :

---