Milan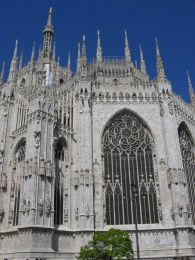 In the fifteenth century Milan was a densely populated city, encircled by canals. The streets radiated into the surrounding countryside from the six main gates and other smaller ones, and by side of the roads - from the time of the ravages caused by the Emperror Barbarossa (Frederick I Hohenstaufen, known as Redbeard 1152-1190) - there were taverns and hospices, convents and farmhouses.
The mansion mentioned in the will of the Marquise Gerolamo Pallavicino in 1497 was situated along the street of Monforte, in the parish of San Babila, not far from the house of the Umiliati (Humiliated) of San Damiano. You should imagine a not huge but elegant country house placed in what was considered to be the garden par excellence of Milan: the Viridarium, from which comes the name of the street i n front of the Palace: Vivaio (nursery).
At that time, the eastern area outside the gates of the city of Milan was furrowed by numerous irrigation channels and springs, like those of Acquabella (beautiful water) in the suburb that today corresponds to Corso Indipendenza and Piazza Dateo.
Between the fifteenth and the sixteenth centuries the stylistic trend in Milan was still Gothic, and one of the most prestigious Bramantesque churches of the city was built near Villa Pallavicini: the Passion. We can only suppose that the new "Florentine" style had affected the owner of the house in that period, as the oldest part of Palazzo Isimbardi shows evident characteristics of the renaissance style.
During the nineteenth century the facade towards the garden was the most radically changed part of the palace. The garden was designed in romantic fashion, with secluded spots, an artificial hillock, and grottos. The facade was designed in neo-classic style by architect Tazzini, while the Court of Honour and the garden were connected by one inclined level that covered the present flight of steps and the flooring of the court (now the Hall of Frescos).
The history of Milan, as an independant political entity, ends in 1859 when the city took its place in the national community with all the weight of its political, religious and cultural history, its commercial and industrial enterprise behind it, constituting a vital and important part of the new state.
Famous people of Milan :
Leonardo da Vinci
Alessandro Verri
Pietro Verri
Cesare Beccaria
Carlo Porta
Alessandro Manzoni
Giuseppe Verdi
Carlo Emilio Gadda
Giorgio Strehler
Bramante
The family Visconti
Ascanio Maria Sforza
Twin cities :
Akhisar, Turkey
Bethlehem, Palestinian National Authority
Birmingham
, United Kingdom
Belgrade, Serbia
Chicago, USA
Krakow, Poland
Daegu, South Korea
Dakar, Senegal
Toronto, Canada
Frankfurt, Germany
Guadalajara, Mexico
Lyon, France
Medelli­n, Colombia
Karachi, Pakistan
Melbourne, Australia
Osaka, Japan
San Pedro Garza Garcia, Mexico
Sao Carlos, Brazil
Sao Paulo, Brazil
Belo Horizonte, Brazil
Saint Petersburg
, Russia
Shanghai, People's Republic of China
Tel Aviv, Israel
Montreal, Canada
Pernik, Bulgaria
sources : Milan Image : vsb.cz
Date Added: 22 November '07
---
Add a link to this page on any related website, blog or forum using this code :

---