Marseille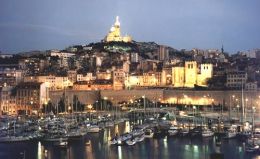 Marseille is the second largest city in France and the third metropolitan area, with 1,516,340 inhabitants at the 1999 census. Located in the former province of Provence and on the Mediterranean Sea, it is France's largest commercial port and the largest in the Mediterranean.
Marseille is the capital of the Provence-Alpes-Cote d'Azur region, as well as the prefecture (capital) of the Bouches-du-Rhone departement.
Marseilles is a Provencal city with vitality, centered around 26-century-old port, with a dynamic downtown, big parks, a medieval-village-style neighborhood, downtown shopping and wonderful seafood. If you have an "image" of Marseilles that isn't good, a visit here will be a wonderful surprise. The photo is of the L'Escolo de la Mar; this Marseillais folk-dance group was fou nded in 1854 by Frederic Mistral and his friends, making it the oldest in France.
Marseilles is, first of all, ancient. Started by the Phoenician around 600-BC (ignoring of course the Ligurians who already lived here), taken over by the Greeks in 540 BC, and conquered by the Romans two thousand years ago, it is full of sites and artifacts of Antiquity. Marseilles is the second-largest city in France, with its metro and its Parisian-style division into "arrondissements".
The flavor of Marseilles is antiquity, seaport, seafood, museums, history and travel. On the darker side, the reputation of Marseilles included gangsters and plague, with the gangster reputation from the "old days" accented by many French films and the American film "The French Connection". The plague gained its entry into Provence in 1720 from a ship of silk and cotton unloaded at Marseilles.
Marseille is divided into 16 municipal arrondissements, which are themselves divided into quartiers (111 in total). The arrondissements are regrouped in pairs into sectors, and 8 sectors have a council and a town hall, like the arrondissements in Paris and in Lyon.
The municipal elections are carried out by amazing sector. Each sector elects its councillors (303 in total), one third of which are municipal councillors.
The Marseillaise
The National hymn of France was born in Strasbourg and raised in Marseille. In 1792, during the Revolution, Rouget de Lisle, a young officer from the Army Engineers, composed the war-song of the Army of the Rhine (Chant de guerre de l'Armee du Rhin).
In Marseille, during a banquet to honour 500 volunteers being sent to Paris, someone sang the song, which had been published, and everyone joined in. Copies of the song were given to all of the volunteers, who sang it at every stop on their way to Paris, rousing support as they went. When they marched through the streets of Paris singing the song, 500-strong and now very good, with their Provenižal accents, the crowds loved it. It became instantly popular, and was named La Marseillaise.
sources:
Marseille Info : beyond.fr
Marseille Image : uni-sb.de
External Links :
France - Provence Beyond French Riviera
Provence Web - Tourisme en France
Marseille - Office du Tourisme et des Congres
Google Images of Marseille
Date Added: 30 April '06
---
Add a link to this page on any related website, blog or forum using this code :

---