Koln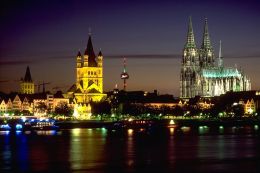 Koln is the Germany's fourth-largest city after Berlin, Hamburg and Munich and is the largest city both in the German Federal State of North Rhine-Westphalia and within the Rhine-Ruhr Metropolitan Area, one of the largest European metropolitan areas with over 12 million inhabitants.
Koln lies at the River Rhine and the city's world famous Cologne Cathedral (Kolner Dom) is seat to a Roman Catholic Archdiocese, just as important to Koln as its specially brewed Kolsch beer.
Koln University is one of Europe's oldest universities and internationally renowned for its economics department.
Koln is the economic and cultural capital of the Rhineland and has a vibrant and thriving art scene. Koln counts over 30 museums and hundreds of galleries. Exhibitions range from local Ancient Roman a rcheological findings to contemporary graphics and sculpture. Koln's Trade Fair Grounds are host to a number of trade shows such as the Art Cologne Fair, the International Furniture Fair (IMM) and the Photokina. Koln is also well known for its celebration of Koln Carnival and the Koln Gay Pride events.
In 2005 Koln hosted the 20th and one of the largest-ever meetings of the Catholic World Youth Day with Pope Benedict XVI and over a million participants.
The name of KolnĀ"s international Airport is Konrad-Adenauer-Flughafen which is shared with the neighbouring city of Bonn.
20% of Koln's population is non-German. 40% of those (or 8% of the total population) are Turkish. Koln has a well-respected gay community and has long been known for its easy-going and tolerant attitudes. Koln is a stronghold of Germany's gay movement and harbours the headquarters of Germany's largest homosexual lobby group.
Koln is well known for its beer, called Ki¶lsch. Ki¶lsch is also the name of the local dialect. This has led to the common joke that Ki¶lsch is the only language you can drink.
One of Koln's largest companies is the European headquarter of the Ford Motor Company with large administrative, technical and production departments.
Koln is also famous for Eau de Cologne. At the beginning of the 18th century, Italian expatriate Johann Maria Farina (1685-1766) created a new fragrance and named it after his hometown Cologne, Eau de Cologne (Water from Cologne). In the course of the 18th century the fragrance became increasingly popular. Eventually, Cologne merchant Wilhelm Mi¼lhens secured the name Farina, which at that time had become a household name for Eau de Cologne, under contract and opened a small factory at Cologne's Glockengasse. In later years, and under pressure from court battles, his grandson Ferdinand Mi¼lhens chose a new name for the firm and their product. It was the house number that was given to the factory at Glockengasse during French occupation of the Rhineland in the early 19th century, number 4711. In 1994, the Mi¼lhens family sold their company to German Wella corporation. Today, original Eau de Cologne (German: Ki¶lnisch Wasser) still is produced in Cologne by both the Farina family (Farina gegeni¼ber since 1709), currently in the eighth generation, and by Procter & Gamble who took over Wella in 2003.
Sister Cities :
- Liverpool (United Kingdom), since 1952
- Lille (France), since 1958
- Liege (Belgium), since 1958
- Rotterdam (Netherlands), since 1958
- Turin (Italy), since 1958
- Kyoto (Japan), since 1963
- Tunis (Tunisia), since 1964
- Turku (Finland), since 1967
- Neukolln (Berlin), since 1967
- Tel Aviv-Jaffa (Israel), since 1979
- Barcelona (Spain), since 1984
- Beijing (People's Republic of China), since 1987
- Thessaloniki (Greece), since 1988
- Cork (Ireland), since 1988
- Corinto / El Realejo (Nicaragua), since 1988
- Indianapolis (U.S.), since 1988
- Volgograd (Russia), since 1988
- Treptow-Kopenick (Berlin), since 1990
- Metropolian Katowice (Poland), since 1991
- Bethlehem (West Bank), since 1996
- Istanbul (Turkey), since 1997
- Cluj-Napoca (Romania), since 1999
This article is licensed under the [GNU Free Documentation License]. It uses material from Wikipedia
Date Added: 29 April '06
---
Add a link to this page on any related website, blog or forum using this code :

---