Ivory Coast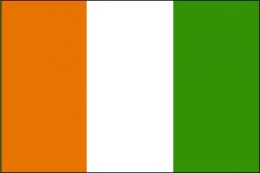 Surface: 322.463 km²
Population: 13.720.000 inhabitants
Density of population: 42.8 inhabitants/km²
Capital: Yamoussoukro (120.000 inhabitants)
Official language: French
Official currency: franc
Imported products: car pieces, fuels, cars
Exported products: coffee, cocoa, wood, palm oil
Brut Intern Product: 6.997 million $
State type: Republic
Geographical Characteristics
Ivory Coast is situated in the west of Africa. The low coast region has lagoons and sand areas. In interior, a plateau has approximately 300 m and in the north-west its height is 1.000 m. The country has borders with Liberia and Guinea in the west, Mali and Burkina Faso in the north, Ghana in the east, and the Gulf of Guinea (Atlantic Ocean) in the south.
Climate
The climate is moister in the south, with medium rainfall of 150-200 cm in the rainy seasons, between May and October. The interior of the country has an only rainy season, with a medium amount of rainfall of 100 cm. the medium temperatures in Abidjan are: 27° C in January and 24° C in July. The interior is a savanna. The southern region is moister and covered with forests.
Agriculture
59% of the people works in the agriculture, but only 11% of the country's surface is cultivated and 9% is grassland. Agriculture brings 80% of the export incomes. Ivory Coast is an important producer of coffee, pineapple, cocoa and palm oil. People also cultivate: bananas, manioc, rice and corn. They grow sheep, coats and cows, especially in the north. There they cultivate nuts and millet. An important forestry product is mahogany.
Industry and Mining
24% of the electric energy is produced in the thermo-electric power centrals and the rest of 76% in the hydro-electric stations.
Minerals include petroleum, diamonds in the valley of Bou River and iron ore in Bangolo. Industry is connected with processing food, textiles and wood. Because they developed and encouraged foreign investments Ivory Coast became one of the most prosperous countries of tropical Africa.
Cities and Transport
Abidjan is the main port and industrial center. 77% of the population is Ivorian. People speak 65 different languages, one of the most known is Djoula spoken by the Muslim population. French is the official language and is spoken and taught in schools. 20% of people came from Liberia, Burkina Faso and Guinea because the country was prospering and they wanted a good job. 4% of the population is hasn't African ancestry. The country has 1.156 km of railways and connections with Burkina Fasso.
Ivory Coast Lists
Date Added: 12 December '06
---
Add a link to this page on any related website, blog or forum using this code :

---