Iraq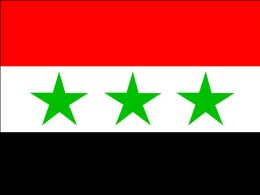 Surface: 434.924km²
Population: 19.410.000 inhabitants
Density of population: 44.7 inhabitants/km²
Capital: Baghdad
Official language: Arabian
Official currency: Iraqi an dinnar
Brut Intern Product: 41.537 million $
State type: republic
Imported products: fabricated products, car pieces, food, consume goods
Exported products: brut petroleum, wool, leather and cotton,
Major cities in Iraq :
Baghdad is situated on the Tigris River, 550 km into the interior of the Persian Golf. It is an old city from Mesopotamia, suffered frequent floods in the past and now it is protected by the Samarra barrage. Baghdad had many industries but Basra is the most industrial city and also the most important port, 112 km into the interior from the Persian Golf. Mos is the regional center i n the north. 79% of the population is Arabian and 16% are Kurds. Islam is the official religion with 60-66% shiits and 35% sunnits. The sunnits have the political power until Saddam Hussein was arrested by American army.
Climate :
The summers are hot and arid, with hot and dusty winds from north-west called shamal. The north side of the country has mountains where the weather is cold. The annual amount of rainfall is under 25 cm per year. The medium temperature in Baghdad is 10ºC in January and 34ºC in July, the amount of rainfall is 14 cm per year. The numbers for Basra are 13ºC, 33ºC and 19 cm per year.
Mining :
Iraq was one of the most important producers of petroleum in the world before the war against Kuwait in 1991. In the Kirkuk Region there are many petroleum fields. Iraq also has deposits of natural gas, iron ore, copper, lead and other minerals.
Agriculture :
23% of the population works in agriculture but only 12% of the surface is cultivated and 9% are grasslands. The north-east is pretty rainy for grain, fruits and tobacco, but most of the country depends on the irrigation system. There are cultivated rice, corn and cotton. The grown of animals is important and they have over 8 millions sheep, 1.5 millions cows and 1.4 millions goats. The wool is an important export product.
Geographical Characteristics :
In north-east the Kuhe Haji Ebrahim Mountains, near Turkish border have 3.600 m. Near the Iranian border are Zagros Mountains where are the springs for most of Tigris's tributaries. The center of Iraq is a desert. In the south there is a low plain.
Date Added: 14 November '06
---
Add a link to this page on any related website, blog or forum using this code :

---