El Salvador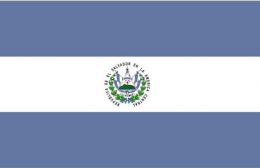 Surface: 21.046 km²
Population: 5.380.000 inhabitants
Density of population: 225 inhabitants/km²
Capital: San Salvador (1.250.000 inhabitants)
Official language: Spanish
Official currency: Colon
Imported products: car pieces, cars, textiles, chemical products, food
Exported products: coffee, sugar cane
Brut Intern Product: 1.110 million $
State type: Republic
Geographical Characteristics
The country is situated in Central America. It is the country with the smallest surface in the Islamic Central America. The relief is predominant mountainous with many active volcanoes, the most known is Izalco Volcano (1.775 m). It is named "Pacific's Lighthouse". In the south along the coast there is a narrow coast plain. The volcanoes have lakes, some of the most important are Ilo pango Lake (70 km²) and Coatepeque Lake (26 km²). Guija Lake is El Salvador's largest natural lake and has a surface of 44 km².
Climate
The climate is warm and influenced by altitude. The tropical forests have precious essences as ebony and mahogany but they occupy small surfaces. The forests cover only 13% of the country's surface. The earthquakes are frequent and the geothermal resources are very appreciated and used.
Population and Cities
The capital of the country is San Salvador and has 1.250.000 inhabitants. The country has 5.380.000 inhabitants. The birth rate is 33‰ and the death rate is 8‰. Almost half of the population, 45%, lives in cities. The most important cities are: Santa Ana (228.000 inhabitants), San Miguel (179.000 inhabitants) and Mejicanos (110.000 inhabitants). 85% of the people are Metis, 10% are Creoles and 5% are Amerindians. The country has the biggest density of population on the American continent, excepting the mini-states in Antilles. The population is concentrated in the central-west side of the country, where the density is over 300 inhabitants/km². On the coast regions the density is lower. The most important religions are: Catholicism 90% and Protestantism.
State
The country is a presidential republic, a federal state, according to the Constitution in 1983. The legislative activity is exerted by the President and National Assembly and the executive by a cabinet leaded and chosen by the President. The political parties are 27 and some of them are: the National Republican Alliance, the Christian Democrat Party, the Democratic Convergence, the National Democratic Union and the Revolution Democratic Front.
Economy
The country doesn't have mineral resources and its economy is based on agriculture. People cultivate: corn, coffee (22% of the country's surface is cultivated with coffee), cotton and sugar cane. They also grow animals, especially cows. The industry is relative various and satisfies the internal needs and has a minor contribution in exports. The electric energy is produced in hydro-electric power centrals (70%) and in geothermic power stations.
Date Added: 12 December '06
---
Add a link to this page on any related website, blog or forum using this code :

---