Donetsk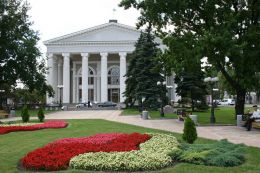 Donetsk is a city in eastern Ukraine on the Kalmius river. Administratively, it is a center of Donetsk Oblast, while historically it is the unofficial capital and largest city of the Donets Basin region, or Donbass.
Donetsk has 1,131,700 inhabitants (2005) and the metropolitan area has 1,566,000 inhabitants (2004). It is currently the fourth-largest city in Ukraine.
Donetsk was founded in 1869 when a Welsh businessman John Hughes built a metallurgical plant and several coal mines near a Cossack settlement Alexandrovka. The town initially was given the name Yuzovka ("Yuz" being a phonetic rendering of Hughes). By the beginning of the 20th century Yuzovka had approximately 50,000 inhabitants, and attained the status of a city in 1917. In 1924 the city's name was changed to Stalino afte r Joseph Stalin. The Nazi invasion during World War II almost completely destroyed the city, which was mostly rebuilt on a large scale at the war's end. During Nikita Khrushchev's second wave of destalinization immediately after the 22nd Communist Party Congress in November 1961, all Soviet cities named after Stalin were renamed. Stalino's name was changed to Donetsk, after the Donets river, a tributary of the Don.
Donetsk and the surrounding territories are heavily urbanized and agglomerated into conurbation. The workforce is heavily involved with heavy industry, especially coal mining, but the city is very green and lightly-polluted for being a major industrial city[citation needed].
Donetsk lies 95 km north of the Sea of Azov, a popular vacation spot for the city's inhabitants. The city's professional football teams are FC Shakhtar Donetsk and FC Metalurg Donetsk.
Local Transportation :
The main forms of transport within Donetsk are: trams, electric trolley buses, buses, and Marshrutkas (private minibuses). The city public transportation system is controlled by the united Dongorpastrans municipal company. The city has 12 tram lines (about 130km), 17 trolley bus lines (about 188km), and about 115 bus lines. Both the tram and trolley bus systems in the city are served by 2 depots each.
Famous People :
- Serhiy Bubka, Soviet-Ukrainian Pole Vault athlete
- Rinat Akhmetov, Ukrainian business oligarch
- Polina Astakhova, Ukrainian gymnast
- Anatoly Timofeevich Fomenko, Russian Mathematician and lecturer at the Moscow University
- Pavel Gililov, Russian Pianist
This article is licensed under the [GNU Free Documentation License]. It uses material from Wikipedia
External Links :
Donetsk National Technical University
Google Images of Donetsk
Date Added: 27 April '06
---
Add a link to this page on any related website, blog or forum using this code :

---