Cyprus
| | | | | | | |
| --- | --- | --- | --- | --- | --- | --- |
| Q: | | | | | | |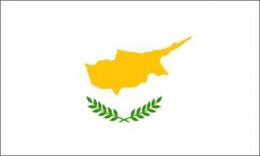 General Facts :
Surface: 9.251 km²
Population: 710.000 inhabitants
Density of population: 77 inhabitants/km²
Capital: Nicosia (168.800 inhabitants)
Official language: Greek and Turkish
Official currency: Cypriot Lira
Exported products: barley, grapes, potatoes, oranges
Brut Intern Product: 8.020 $/inhabitant
State type: Republic
Geographical Characteristics :
The country is situated in the south-west of Asia and in the eastern basin of Mediterranean Sea. It is an insular state. The island has two mountainous chains: in north there are Kirenia Mountains (maximum altitude of 1.019 m) and in south Troodos Mountains (maximum altitudes of 1.953 m) separated by Mesaoria Plain, the main agrarian region.
Climate and Vegetation :
The climate is Medite rranean with rich rainfalls in the west of Troodos Mountains (over 800 mm per year) and fewer in Mesaoria (under 350 mm per year). The vegetation was initially formed of forests but in time was replaced by agrarian cultures and grassland. Some black pines and Alep pines are growing in the mountainous regions.
Population and Cities :
The capital of the country is Nicosia and has 168.800 inhabitants. The birth rate is 18.6‰ and the death rate is 8.8‰. 53% of the population lives in cities. The most important cities are: Limasol (105.000 inhabitants), Famagusta (39.000 inhabitants) and Larnaka (35.000 inhabitants). Before 1974 the population was denser in the Mesaoria Plain (almost 100 inhabitants/km²) and rarer in south-west (40 inhabitants/km²). In 1974 approximately 200.000 Cypriots took refuge from the area occupied by the Turkish troupes (cities like Famagusta, Kirenia and Morphou were completely evacuated). 2/3 of the population lives on the coast now. The most important religions are: Orthodoxies, Islamism and Catholicism.
State :
The country is a presidential republic according to the Constitution in 1960. The legislative activity is exerted by the President and the Representants Room and the executive by a Council of Ministries leaded and chosen by the President. The political parties are 7 and some of them are: the Democrat Party, the Social Party in Cyprus, the Turkish Republican Party and the Social Democrat Party.
Economy :
The economy was marked in 1974 by the separation of the country in two parts. The Greek-Cypriot sector developed better and is sustained especially by tourism. Tourism brings 1 billion $ annually to the incomes. The agriculture continued to develop and people cultivate grapes, potatoes and oranges. The first cultivated plant remains barley. 34% of the country's surface is cultivated with barley. The industry is relative various and they are: cement, shoes and food. Important sources of incomes are the commercial fleet and bank activity.
Date Added: 26 November '06
---
Add a link to this page on any related website, blog or forum using this code :

---