Central African Republic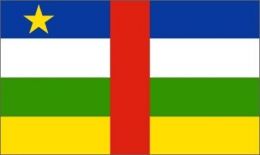 General Facts :
Surface: 622.984 km²
Population: 3.127.000 inhabitants
Density of population: 5 inhabitants/km²
Capital: Bangui (474.000 inhabitants)
Official language: French
Official currency: CFA franc
Imported products: car pieces, cars, textiles, chemical products, food
Exported products: gold, diamonds coffee, cotton, natural rubber, wood
Brut Intern Product: 369 million $
State type: Republic
Geographical Characteristics :
The country is situated in the center of Africa. The relief is represented by a high and undulated plateau, Oubangi-Chari, with a medium altitude between 600 and 900 m and over 1.000 m in the eastern and western sides. The highest altitudes are in the east in Binga Peak 1.388 m, in Bongo Mountains and in the west in Gaou Peak 1.4 20 m, in Karre Mountain. The main rivers are Chari (1.400 km) which flows to the north side and Oubangi River (2.350 km) with a lot of tributaries.
Climate, Vegetation and Fauna :
The climate is tropical with two distinct seasons: one rainy and one arid. In the north of the country blow harmattan winds, which are hot, dry, and carry dust. In north-east the climate is arid and sandy. The characteristic vegetation is represented by savanna and the wet tropical forest is developed only in south-west. The fauna is specific to this vegetation and is very rich.
Population and Cities :
The capital of the country is Bangui and has 474.000 inhabitants. The country has 3.127.000 inhabitants. The birth rate is 45.5‰ and the death rate is 17.8‰. 47% of the population lives in cities. The most important cities are: Bossangoa (101.000 inhabitants/km²), Berberati (100.000 inhabitants/km²), Bouar (91.000 inhabitants/km²), Carnot (83.000 inhabitants/km²) and Bambari (76.000 inhabitants/km²). Most of the people, more then 98%, are Negros. The population is concentrated especially in Valley's of Ubangi River (the capital is the most important city there) and some other rivers like Khari River. The most important religions are: Animism (60%), Catholicism (20%), Protestantism and Islamism.
State :
The country is a presidential republic according the Constitution in 1986. The legislative activity is exerted by the President and a Bicameral Parliament formed of the National Assembly and Regional and Economic Council and the executive one by a cabinet named and ruled by the President. There are 15 political parties and the main are: Central African Democratic Assembly and Ubangi Patriotic Front.
Economy :
The economy is based on agriculture and mining. 66% of the population works in agriculture and assure 2/5 of the incomes. They cultivate especially manioc for food and coffee and cotton for export. They grow cows. The mining is based on diamonds extracting and gold extracting. Recently they discovered some petroleum deposits and started to extract them. The main commercial partner is France where they export diamonds, coffee, cotton, natural rubber and wood.
Central African Republic Lists
Date Added: 22 November '06
---
Add a link to this page on any related website, blog or forum using this code :

---