Budapest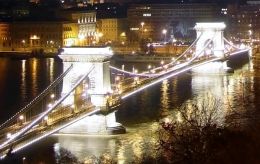 Budapest is the capital city of Hungary and the country's principal political, cultural, commercial, industrial and transportation center.
Budapest has approximately 1.7 million inhabitants, down from a mid-1980s peak of 2.1 million. Budapest became a single city occupying both banks of the river Danube with the amalgamation in 17 November 1873 of right-bank Buda (Ofen in German) and Obuda (Old Buda or Alt-Ofen) together with Pest on the left (east) bank. It is the seventh largest city in the European Union.
Budapest's districts are numbered clockwise, in widening circles, and are organized similarly to the arrondissements in Metropolitan Paris.
Originally Budapest had 10 districts after coming into existence upon the unification of the three cities in 1873. On 1 January 1950 Buda pest was united with several neighboring towns and the number of its districts was raised to 22. At that time there were changes both in the order of districts and in their sizes. Now there are 23 districts, 6 in Buda, 16 in Pest and 1 on an island between them. Each district can be associated with one or more city parts named after former towns within Budapest.
Budapest Ferihegy International Airport, which has 3 different passenger terminals: Ferihegy 1, Ferihegy 2/A and Ferihegy 2/B. The airport is located to the east of the centre in the XVIII. district in Pestszentlorinc.
Budapest is the most important Hungarian road terminus; all the major highways end there. Between 1990-1994, the city street names were reverted back to their late 19th century names, which were changed under the Soviet occupation. Budapest is also a major railway terminus.
Hungarian main-line railways are operated by MAV. There are three main railway termini in Budapest, Keleti (eastern), Nyugati (western), and Deli (southern), operating both domestic and international rail services. Budapest was one of the main stops of the Orient Express until 2001, when the service was cut back to Paris-Vienna.
There is also a suburban rail service in and around Budapest, operated under the name HEV.
The Budapest Subway system is the second oldest subway in Europe (after the London Underground). The original subway line is now the M1 or Yellow line. It was fully restored to its original condition, for a historical ride. Two other lines, the M2 (red) and M3 (blue), were built later and serve other parts of the city. The M4 is currently under construction and the M5 is expected to be started in 2007. Both lines M2 and M4 will be fully automated and operate without drivers. The Budapest Subway was the scene of the 2004 film Kontroll.
The river Danube flows through Budapest on its way to the Black Sea. The river is easily navigable and so Budapest has historically been a major commercial port (at Csepel).
Date Added: 05 June '08
---
Add a link to this page on any related website, blog or forum using this code :

---