Belarus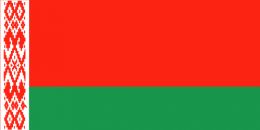 General Facts:
Surface: 207.600 km²
Population: 10.297.000 inhabitants
Density of population: 50 inhabitants/km²
Capital: Minsk (1.613.000 inhabitants)
Official language: Belarusian
Official currency: ruble
Brut Intern Product: 5.960 $/inhabitant
State type: Republic
Geographical Characteristics :
The country is situated in the east of Europe and hasn't direct access at the ocean. Its relief is specific to the plain and is modeled by the quaternary glacier calotte. The altitudes are higher in the north but they don't pass 350 m. In the south the medium altitudes are 150 m and there are marshes.
Climate, Vegetation and Faun :
The climate is temperate of transition from the continental which is typically to Europe to the maritime climate specif ic in the west. The amount of rainfall is enough: 550-650 mm per year. The main river is Nipru River and crosses the east of the country from north to south. Its most important tributaries are Berezina and Pripiat. The country has 4.000 lakes. The forests occupy 1/3 of the country's surface and there are in Polesia and in the basin of Berezina. The faun includes brown bears, foxes, elans and bison. The last one lives in the Belovezha Pushcha National Park, at the border with Poland.
Population and Cities :
The country has 10.297.000 inhabitants. The birth rate is 15‰ and the death rate is 10.1‰. 66% of the population lives in cities. The most important cities are: Gomel (506.000 inhabitants), Moghilev (363.000 inhabitants), Vitebsk (356.000 inhabitants), Grodno (270.000 inhabitants), Brest (269.000 inhabitants) and Bobruisk (223.000 inhabitants). 78% of the people are Byelorussians, 13% are Russians, 4% are Polish, 3% are Ukrainians and 1% is Jewish. The most populated part of the country is the central side in the capital's region where there are 80 inhabitants/km². In the north and south of the country the situation is upside down because there are 35 inhabitants/km². The most important religions are: Orthodoxies and Catholicism.
State :
The country is a parliamentary republic according to the Constitution in 1991. The legislative activity is exerted by the Supreme Soviet and the Ministries Council. The political parties are 6 and some of them are: the Popular Front Belarus, the Christian Democrat Union of Belarus and the National Democrat Party of Belarus.
Economy :
The country is well developed and has a various industry and an intensive agriculture. Belarus has many deposits of peat, salt and potassium. The processing industries as cars, cement, textiles and paper are developed in cities like Minsk, Vitebsk, Gomel, Grodno and Bobruisk. The agriculture is concentrated on growing animals for milk and meat and in the cereal cultures. The most cultivated plants are: flax, potatoes, and sugar cane. The country has a large hydrographic network with over 3.500 km of navigable ways.
Date Added: 25 November '06
---
Add a link to this page on any related website, blog or forum using this code :

---