Aruba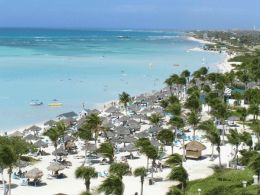 Aruba is an island, situated off the north coast of the South American continent. It forms part of the Dutch Antilles, with amongst others Bonaire and Curacao. The island is 33 km long, with a land area of 193km2. the official languages on Aruba are Dutch and Papiamento - derived from an African, and the Portuguese and Dutch languages. The capital of Aruba is Oranjestad, literally meaning Orange Town and is a country within the Kingdom of Netherlands, the estimated population just over 104,000 people.
Spain colonized Aruba for over a century, but has been under Dutch administration since 1636, initially under Peter Stuyvesant. Aruba played a vital strategic role during World War II by providing refined oil supplies to the Allies.
Aruba's current economy is based upon gold mining, ph osphate mining, aloe export, petroleum refineries and tourism. The world's second largest desalination plant is located in Aruba, for the production of potable industrial water from sea water.
The capital and largest city of Oranjestad is located on Aruba's picturesque southern coast, there are tall multicolored houses in the town, which provide a mixture of architectural styles. Merchants sell their freshly caught fish every morning along the wharf, right off their boats. There are many interesting sights to view on Aruba, including the 30m high California lighthouse, so named after the ship that was wrecked there in 1891, the lighthouse has been in operation since 1914. For the adventurous cave-dwelling types there are the caves of Aruba for exploration, included are the Guadirikiri, Fontein and the Huliba Caves, with the latter being nicknamed the Love Tunnel, because of its heart shaped entrance. A stunning tourist attraction was the Natural Bridge which spanned 100 foot and 25 foot above the sea, unfortunately in 2005 the same wave action that created it, destroyed the arch and it disappeared in one evening.
There are numerous water sports available around the island, including Parasailing, snorkeling, scuba diving, kite surfing and deep sea fishing. Alternatively the land based activities include golf, horse riding, and cycle tours.
Famous Why? Bobby Farrell (male lead vocalist from Boney M) - Aruban
Image Source : barmitzvahvacations.com
Aruba Lists
Date Added: 19 October '08
---
Add a link to this page on any related website, blog or forum using this code :

---