Armenia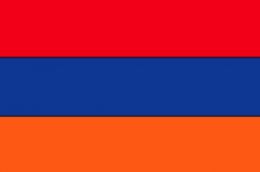 General Facts :
Surface: 29.800 km²
Population: 3.376.000 inhabitants
Density of population: 113 inhabitants/km²
Capital: Yerevan (1.300.000 inhabitants)
Official language: Armenian
Official currency: Dram
Imported products:
Exported products:
Brut Intern Product: 4.710 $/inhabitant
State type: republic
Geographical Characteristics :
The country is situated in the south-west of Asia and doesn't have seaside. The relief is predominant mountainous, formed of the peaks and volcanic plateaus of the High Plateau of Armenia and sectors of the Small Caucasus Mountains. The maximum altitude is in the Aragat Mountain (4.090 m) which is a volcanic mountain. The mountains are separated by valleys and depressions very populated. The biggest depression is Ararat Depr ession.
Climate :
The climate is subtropical and dry in the low depressions with little rainfall (200-400 mm per year) and temperate with much rainfall (800-1.000 mm per year) in the mountainous regions. The rivers have a high energetic potential and one of the most important mountainous lakes is: Sevan Lake situated at 1.900 m altitude. The vegetation is predominant grassy, xerophytes in the southern depressions. The forests occupy 1/3 of the country's surface. The faun includes jackals, lynxes, leopards and moufflons.
Population and Cities :
The country has 3.376.000 inhabitants. The birth rate is 22.9% and the death rate is 6.3%.
68% of the population lives in cities. The most important cities are: Karaklis (159.000 inhabitants) and Kumairi (120.000 inhabitants). The capital of the country is Yerevan (1.300.000 inhabitants). 93% of the population is Armenian, 3% is Azeri, 2% is Kurd and the rest are Russians, Ukrainians and others. Over 95% of the population lives in regions with altitudes between 800 and 2.400 m. The biggest density of population is in the east of Ararat Depression (over 150 inhabitants/km²). Most of the people are Muslims and Christians.
State :
The country is a presidential republic according to the Constitution. The legislative activity is exerted by the President and the Supreme Council and the executive by the Council of Ministers. The political parties are 7 and some of them are: the National Armenian Movement and Democrat party of Armenia.
Economy :
The country has some deposits of copper, molybdenum, bauxite, zinc, chromium and many rocks used in constructions (marble). The industry is various and there are car, chemical, robber, food and textile industries concentrated in the cities: Yerevan, Alaverdi, Karaklis, Kumairi and Zanghezur. People cultivate cereals (over ½ of the agrarian surface), cotton, tobacco, sugar cane, grapes and fruits especially in the southern depressions. The network of the communications way is connected to the one in Georgia and Azerbaijan.
Date Added: 20 November '06
---
Add a link to this page on any related website, blog or forum using this code :

---