Antigua and Barbuda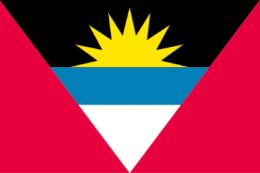 General Facts :
Surface: 441.5 km²
Population: 79.000 inhabitants
Density of population: 178 inhabitants/km²
Capital: Saint John's (36.000 inhabitants)
Official language: English
Official currency: East Caraibean Dollar
Imported products: brut petroleum
Exported products: petroleum products, coffee, cocoa
Brut Intern Product: 4.600 $/inhabitant
State type: Constitutional Monarchy
Geographical Characteristics :
The country is formed of two big and low islands: Antigua and Barbuda and few small islands. The first one is volcanic and its highest peak is Boggy Peak (402 m) and the second one is coralliferous. Short rivers and torrents are only on Antigua.
Climate :
The tropical oceanic climate is nice, except of the period between August and Septem ber when the tropical cyclones come. The wet tropical forest with precious essences occupies small territories. The temperatures are constant all year long
Population and Cities :
The country has 79.000 inhabitants. The birth rate is 13.1% and the death rate is 4.4%. 32% of the people live in cities. The main cities are: Sainte Mary, Sainte Paul and Codrington. The capital is Saint John's (36.000 inhabitants). 92% of the population is black and 3% are white. Almost the entire population is concentrated on the Antigua Island, where the density of population is high (over 250 inhabitants/km²). Most of the people are Protestants (approximately 80%) and Catholics (approximately 18%). Redonda was annexed in the 1860s when Phosphate reserves were noted and was unoccupied since 1930. While the official language is English, most of the locals speak patois, a form of Creole English.
State :
The Head of State is the Queen, who is represented by the Governor-General. The country is a constitutional monarchy according to the Constitution from 1981. The legislative activity is exerted by the Representatives Room and the executive by a cabinet leaded by the leader of the majority party in the Room. The political parties are 7, some of them are: Labor Party, United National Democrat Party, Progressive Labor Movement and Movement of Independence of Barbuda.
Economy :
The main economical sector is tourism which assures 3/5 of the Brut Intern Product. Most of the people work in agriculture. They usually cultivate sugar cane, cotton, bananas, pineapples, oranges, coffee and cocoa. In Fridas Hill is a big refinery of petroleum. The petroleum products are important for export and other important exported products are coffee and cocoa. The commercial balance isn't equilibrated. People work in groups of Europeans, notably Irish, British and Portuguese.
Antigua and Barbuda Lists
Date Added: 20 November '06
---
Add a link to this page on any related website, blog or forum using this code :

---