Algeria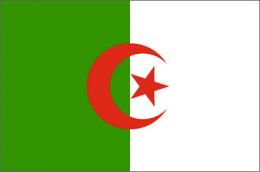 Algeria is situated in the north of Africa.
Surface: 2.381.741 km²
Population: 28.580.000 inhabitants
Density of population: 9 inhabitants/km²
Capital: Alger(3.250.000 inhabitants)
Official language: Arabian
Official currency: Dinar
Imported products: minerals, chemical products, cereals
Exported products: brut petroleum, gas, dates
Brut Intern Product: 45 billion $
State type: republic
Geographical Characteristics:
The Atlas Mountains lay beyond the coast depressions. The country also has the Sahara Desert, 2.000.000 km², which is crossed by the Ahaggar mountainous chain. These mountains have the highest peak of Algeria: Tahat Peak (2.918 m). In the east side of the coutry there is the Chott Plateau.
Climate:
In the south practically never rain s and in the summer the temperatures are very high. The northern coast region has a Mediterranean climate. The rainfall in the mountains is almost 800 mm and the higher peaks are covered with snow. The medium temperatures in Alger are 12 Celsius degrees in January and 26 Celsius degrees in July, and the amount of rainfall is 75 cm.
Agriculture:
25% of the people work in the agriculture, but only 3% of the country's surface is cultivated. Algeria produces 70% of the food needed. They cultivate grapes, grain, potatoes, oranges, tomatoes, olives and dates on the coast fields and the mountainous valleys. The grassland of the mountains and the fields in the Chott Plain are used for grazing. The oases in the south have dates. Algeria is the second African producer of dates after Egypt.
Mining and Industry:
They export petroleum and gas. The main petroleum fields are in Hassi Messaoud and Zarzaitine-Edjeleh. Refineries are in Skikda, Hassi Messaoud, Arzew and Bejaia. There also are large deposits of iron ore, lead, copper, zinc and phosphates. The main industries are: processing petroleum and the natural gas. The country has other industries like cement, vinegar, textile, leather, paper, wine, olive oil and powder industries.
Cities:
Alger is the capital and also the biggest city and port. Oran (663.504 inhabitants) is the second industrial city and port. The biggest city in the interior of the country is Constantine (448.578 inhabitants).
Algeria Lists
Date Added: 15 November '06
---
Add a link to this page on any related website, blog or forum using this code :

---