Afghanistan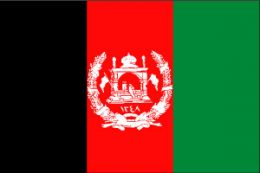 General Facts :
Surface: 647.497 km²
Population: 20.500.000 inhabitants
Density of population: 24 inhabitants/km²
Capital: Kabul (700.000 inhabitants)
Official language: Pushtu and Dari
Official currency: afghani
Imported products: cars, petroleum products, textiles
Exported products: natural gases, fruits, nuts, carpets
Brut Intern Product: 3.100 million $
State type: Republic
Geographical Characteristics:
Afghanistan is a country without seaside situated in the Central Asia. 75% of its surface is covered with rocky mountains, the most important being Hindu Kush Mountain, the second mountain chain in the world. A lot of peaks have more than 6.100 m. there are a lot of arid planes which surround the mountains in north, west and south. The south-western plat eau is in most of his surface uninhabited and the main rivers are Helmand and Kabul.
Climate :
Afghanistan has a continental arid climate with four distinct seasons. The temperatures are different from region to region and from a season to another. The Summer is hot and arid and the Winter is snowy. The medium amount of rainfall is 34 cm per year and the medium temperature in Kabul is -3° C in January and 24° C in August.
Mining and Energy:
There are big deposits of natural gases in the north near Shibarghan and a part of them are exported in Uzbekistan. Afghanistan has also big deposits of baritone, chromium, copper, gold, iron, lead, coal, petroleum, salt, silver, rubies and uranium, but most of those aren't full exploited. 40% of the electric energy is produced in thermo-electric power stations which use natural gases and the rest is produced in the hydro-electric centrals. The wood is in some regions an important source of energy.
Agriculture:
57% of the people work in agriculture and 12% of the country's surface is cultivated with grain, bean, corn, rice and millet. They also cultivate fruits, especially grapes and mellows. Other important plants are cotton and poppies, cultivated for opium which is used in medicine and as illegal drug. They grow especially sheep (Karakul specie) and also cows, goats and birds.
Industry:
21% of the people work in industry. The oldest industries produce cotton textiles, wool textiles, handmade carpets, shoes, furniture, sugar and fruits conserves. The exploitation of natural gases, coal and other ores are increasing and also the construction factories. The chemical products are obtained from natural gases but there are some cement factories too.
Cities and Population:
Kabul, situated on Kabul River at an altitude of 1.800 m, has more than 3.000 years. In the Ancient World here were some commercial ways between Extreme East and Middle East. Today is an important commercial center, the main market and industrial city with textiles, food, furniture and shoe industries. The second city is Kandahar (225.500 inhabitants) and was made in the middle of the XVIII century by Ahmad Shah Durrani. Is the main commercial and industrial center in the south-west side.
Transports:
Afghanistan has 21.000 km of roads and the most important of them starts from Kabul and include Salang Tunnel made in 1864 across Hindu Kush Mountains. There are some roads across the border with Pakistan, Turkmenistan and Iran. There is an important airway network and a short railway across the border with Uzbekistan.
Population:
Almost all the Afghani are Muslims and 80% of them are Sunni. The Pathan people (50%) is the ethnic and linguistic dominant community. The second is Tadjiki (20%) community and they speak Dari (Persian) language. 11% of the population are Turks and they live in the northern plains as farmers and shepherds. Other communities are: Hazara (Mongolian people), Nuristans, Baluks, Hindu and Sikhs.
Afghanistan Lists
Date Added: 20 November '06
---
Add a link to this page on any related website, blog or forum using this code :

---